Hire a motorhome in the UK - Rent a motorcaravan - Campervan rentals in the United Kingdom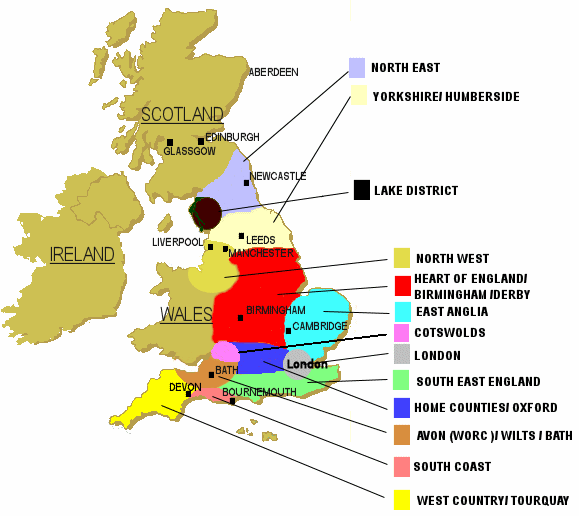 ---
Where to go in the United Kingdom
The United Kingdom of Great Britain and Northern Ireland consist of for constituent countries: England, Scotland, Northern Ireland and Wales.

England is the largest and most populous constituent country of the United Kingdom. It accounts for more than 83% of the total UK population, occupies most of the southern two-thirds of the island of Great Britain and shares land borders with Scotland to the north and Wales to the west.

Wales is a principality extending over the western part of Great Britain. It forms a large peninsula bounded by the Irish Sea, St. George's Channel and the Bristol Channel. The country's capital is Cardiff and nearly 20% of the population speak the Welsh language.

Scotland occupies the northern third of the island. The countryside is a wild, beautiful tumble of raw mountain peaks and deep glassy lakes.



Northern Ireland consists of the six north-easterly counties of the island of Ireland, and is a part of the United Kingdom. Despite bad publicity over the past few decades, it is nonetheless a fascinating province with much to offer in the way of beautiful scenery and cosmopolitan cities. Northern Ireland is renowned for the friendliness of its people. If you like to visit Northern Ireland by motorcaravan, it's easier to hire your motorhome in Ireland.



Road conditions / restrictions
The UK is a great country to visit by motorhome. Roads are well maintained and signposted. Driving in the United Kingdom is on the left-hand side of the road.
Normal speed limits are:
In a built-up area - 30mph (48km/h)
On the outskirts of a built-up area - 40mph (64km/h)
On a main road - 60mph (96km/h)
On a motorway - 70 mph (112km/h)
Speed limits may be lower in some places - watch out for signs
Where to camp
There are many camping and caravan sites in the UK. There are no general regulations about sleeping overnight in campervans in public spaces, but many towns have bye-laws prohibiting this. In most European countries with large motorhome communities - including France, Germany and Italy - towns and villages provide areas for motorhome overnight stays, sometimes with facilities, and sometimes even free of charge. In the UK there are very few officially approved overnight stops (motorhome stopovers) and service points. But in our campsitesdirectory you can still find quite a lot.


Type of motorhomes
Hightop
A panel van (delivery van) conversion with a special high fixed roof. The 'wheelbase' of the van chassis has a strong influence on available space since the width is more or less fixed. Long wheelbase chassis give the most space but can be unwieldy to drive. Medium wheelbase is the most popular on newer vans, MWB is not available on older vans. Often known as a 'camper' or 'campervan' or even Dormobile after one of the original manufacturers.

Rising roof
A variant of the above with a 'folding roof' to lower the overall profile. Also known as a 'pop-top'. Has obvious advantages when driving but there are some problems with insulation and water ingress.

C-Class or Coachbuilt
An extended chassis on a van cab with a coachbuilt living space, rather like having a high spec caravan on the back. The wider 'caravan' body allows designers to cleverly incorporate almost everything you could need into a quite small space - even cross-body beds big enough for a six footer. Frequently called a 'motorcaravan'. Also known as a C-Class in the UK. Many have overcab beds in the 'Luton' but there are also 'low-profile' versions of these motorcaravans without the Luton over-cab space and sometimes with a lower roofline, these vans are much more economical on motorways due to their improved aerodynamics.

A-Class or Integrated
Medium or largish 'van completely coachbuilt - i.e. with nothing of the original van bodywork or cab exterior. Potentially the best design since almost everything is based on the needs of motorcaravanners but they are usually rather expensive and historically not that popular in the UK though this is changing. These days they are about 2.2 metres wide like the c-class coachbuilts and often have a transverse 'drop-down' double bed stored in the roof over the cab seats offering much more headroom than the Luton bed in a c-class. Often only 3 berth. The posh end of the market and often referred to as a 'motorhome'.

Driving license
Please be advised that although it is not mandatory to have an International Drivers Licence to rent a car in Europe it is recommended for driving in Europe in the event the renter is stopped by the police. The International Drivers licence translates the licence from English to other languages.


Visa
European Economic Area (EEA) citizens - the 25 EU countries plus Iceland, Liechtenstein and Norway - and Swiss nationals have the right of free movement and residence in the UK. For other visitors please check the UKvisas site.


Health
In Britain, regardless of nationality and ability-to-pay, emergency patients are treated free of charge. Only if you are hospitalised for more than one night and you are a national of a country without a reciprocal health agreement with the UK, would you be later asked to pay for treatment. You will not be refused emergency medical treatment under any circumstances.


Emergency telephone numbers
The general emergency number is 999.


Best time to visit
If you can avoid the busy summer period ­ July and August ­ your visit may be cheaper. Certainly there will be smaller numbers of visitors. British weather can be pleasant from April onwards until the end of September. Of course, you can visit in the winter, but it is often dark by early evening (4 pm) and many places, such as large houses and castles, are closed over winter.


Electricity
Electric voltage in the United Kingdom is 240v AC, 50 HZ You may need an adapter or converter for anything electrical you bring with you. Also be careful if you buy electrical items in the UK to take back home, they may not work in your country.