Motorhome rental, RV rent and Camper hire in Denmark - Lej en autocamper i Danmark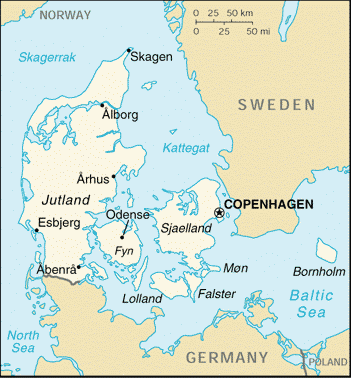 ---
Where to go in Denmark
Copenhagen has many old buildings, fountains, statues and squares, as well as the famous attraction of the Little Mermaid at the harbour entrance. Jutland's west coast has superb sandy beaches but bathing there is often unsafe, due to the changing winds and tides. Around Fynn, there are also a number of beautiful beaches, particularly on the southern islands of Langeland, Tåsinge and Ærø. Excellent beaches can be found in Sjælland, particularly in the north of the island. Gaze at around 500 species of trees, flowers and plants at Knuthenborg Park on Lolland, Denmark's largest; it also contains a safari park. Behold the setting for Shakespeare's Hamlet at the old fortress of Kronborg, famed as the most imposing edifice in Scandinavia, which can be found at Helsingør on the island of Sjaelland. Legoland (Billund) provides good entertainment for children.

Road conditions / restrictions
Danish expressways, highways, and secondary roads are of high quality and connect all areas of the country. It is possible to drive from the northern tip of Denmark to the German border in the south in just four hours.

Danish secondary roads are among the best in the world and generally not crowded. Even the smallest lane is asphalt as a rule, and sign-posting is usually so good that you will find your way easily. If you have no desire to drive fast you can venture calmly off the main roads and motorways. Caravans can easily be taken practically everywhere. Motorways can be used free of charge, except for the Great Belt Connection and the Oresundbridge, where a fee is imposed depending on type of vehicle.

Greenland has no established road system, and domestic travel is performed by foot, boat or by air. The majority of the Faeroe Islands are connected by bridges or serviced by boat. Although the largest islands have roads, most domestic travel is done by foot, horseback, boat or by air.


Where to camp
Free Camping

In Denmark, camping outside the camping sites is not permitted. Only short-termed stays are permitted on ordinary parking grounds. You are allowed to rest at a pull-up in your car or mobile home, for obvious safety reasons if you are tired after a long drive. Several pull-ups also have facilities for the emptying of water and toilet tanks of mobile homes.

Car park areas can also be used when you are in need of a rest, provided the local police regulations warrant it. If not allowed, it will be posted at the car park. However, in neither case are you allowed to actually camp, you must not bring out table and chairs, air the towels, or cook in the open.

In the cities it is becoming more and more common - at least during the summer months - to establish a temporary parking lot for mobile homes, where you can park your camper while you go sightseeing, and then spend the night there as well. The local tourist office will know of any such place in their area.

QuickStop in Denmark

Some 150 camping sites offer a QuickStop possibility for motor homes at a price of DKK 95 to DKK 120 (max. 4 persons excl. electricity), provided you arrive after 8 p.m. and leave before 10 a.m. The tourist office will have a list of the participating camping sites.

Danish Camping / Campsites

Denmark's more than 500 approved camping sites cater for any camper's requirements. Most sites are situated in lovely sceneries, 85% close to the sea with fine bathing possibilities. The sites are rated from 1 to 5 stars. The majority of Danish camping sites are only open during the summer months. Some 135 sites are open throughout the year, most of these require advance booking.

Gas Cylinders

You should not assume that you will be able to get your own, domestic-brand gas cylinders refilled or exchanged, as the dimensions of the filling tube differ from country to country. It is, however, possible to exchange international gas cylinders (blue, 2 or 3kg CGI cylinders) everywhere in Denmark.


Type of motorhome(s)
Hightop or campervan

A panel van (delivery van) often elegantly converted with a special high fixed roof. The 'wheelbase' of the van chassis has a strong influence on available space since the internal width is more or less fixed. Most campervans are 2-berth, sometimes you can extend the roof and convert the van into 4 sleeping places.

Coachbuilt / C-Class

An extended chassis on a van cab with a coachbuilt living space, rather like having a high spec caravan on the back. The wider 'caravan' body allows designers to cleverly incorporate almost everything you could need into a quite small space - even cross-body beds big enough for a six footer. In the UK frequently called a 'motorcaravan'. Also known as a C-Class. Many have a double bed in the cabover. Sometimes they have a fixed double bed or a stack bed. They can range from 2 berth to even 7 berth with many different layouts.

A-Class or Integrated

A medium or largish van completely coachbuilt, with nothing of the original van bodywork or cab exterior. Potentially the best design since almost everything is based on the needs of motorcaravanners but they are usually rather expensive. Sometimes they have a transverse 'drop-down' double bed stored in the roof over the cab seats. Often only 2 berth or 3/4 berth when you can convert the dinning seats into a bed. if they combine it wth a drop down double bed it is possible to have as much as 6 people sleeping inside.


Driving license
A valid national driver's license (including Latin letters) or an international drivers license is accepted in Denmark. Furthermore, it must be clearly indicated for which kinds of vehicles the driver's license is issued.
Visa
For a stay of up to three months, travellers only require a valid passport. An entry or transit visa is required by some nationalities. Consult the Danish embassy or consulate in your home country for further information.


Health
Emergency treatment at Danish public hospitals is free. Fees for non-emergency medical services are usually payable in cash, and are reasonable by international standards.


Emergency telephone numbers
To contact the police, fire department, or hospital in an emergency, dial 112.


Best time to visit
Denmark has a mild climate with no extremes of heat or cold. In the light summer months of June to August, the average daytime temperature is 70 F and in February - the coldest month - the average is 34 F. This makes Copenhagen's weather much more like London's or Amsterdam's than that of the other Scandinavian capitals.

Language
Danish (Dansk) is the official language in Denmark, but English is widely spoken.


Electricity
220 volts AC (50 Hz) is the Danish standard. If you are traveling with electrical or electronic devices be sure to bring a two-pin continental adapter with you.


Currency
The currency in Denmark is Danish Kroner (DKK), which is divided into 100 øre.