Ireland Motorhome rental, Campervan hire, RV rent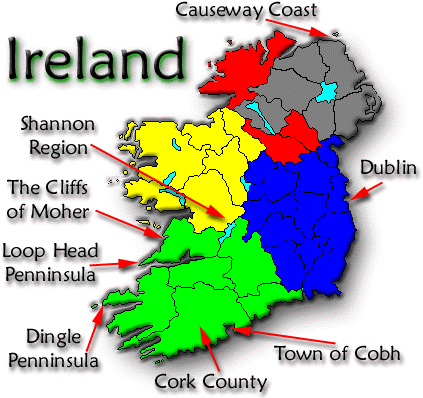 ---
Where to go in Ireland
A visit of Dublin will show you the highlights, including government buildings, public parks and stately Georgian townhouses.The Ring of Kerry, passes through some of the most beautiful scenic areas in the south west of the country. The trail crosses a wide variety of terrain but avoids climbing the highest peaks of the mountains. The Kerry Way roughly follows the scenic driving route of the Ring of Kerry. View the Cliffs of Moher, limestone cliffs that drop 700 feet to the open Atlantic Ocean.Go to Glendalough Visitor Centre to learn about St. Kevin's 6th century monastery, located in a valley in the Wicklow Mountains. See the ancient round tower, church ruins and Celtic crosses. Irish castles and beautiful coastlines


Road conditions / restrictions
Driving in Ireland is on the left-hand side of the road.
Road conditions are generally good, but once off main highways, country roads quickly become narrow, uneven and winding. Roads are more dangerous during the summer and on holiday weekends due to an increase in traffic.
Driving wit a rented motorhome on on the Connor Pass, County Kerry is not allowed.


Where to camp
Wild or free camping

You're allowed to camp anywhere in the country ('wild camping') as long as there is no explicit sign. If you are camping on private property ask the owners first !

Camping and caravanparks

Camping is a well-established popular activity in Ireland. A network of campsites exists throughout the 32 counties. Some of the best camping sites in Ireland are located in beautifully scenic areas. They serve as an excellent base for campers in which they can easily explore the surrounding area.
Type of motorhomes
Hightop
A panel van (delivery van) conversion with a special high fixed roof. The 'wheelbase' of the van chassis has a strong influence on available space since the width is more or less fixed. Long wheelbase chassis give the most space but can be unwieldy to drive. Medium wheelbase is the most popular on newer vans, MWB is not available on older vans. Often known as a 'camper' or 'campervan' or even Dormobile after one of the original manufacturers.

Rising roof
A variant of the above with a 'folding roof' to lower the overall profile. Also known as a 'pop-top'. Has obvious advantages when driving but there are some problems with insulation and water ingress.

C-Class or Coachbuilt
An extended chassis on a van cab with a coachbuilt living space, rather like having a high spec caravan on the back. The wider 'caravan' body allows designers to cleverly incorporate almost everything you could need into a quite small space - even cross-body beds big enough for a six footer. Frequently called a 'motorcaravan'. Also known as a C-Class in the UK. Many have overcab beds in the 'Luton' but there are also 'low-profile' versions of these motorcaravans without the Luton over-cab space and sometimes with a lower roofline, these vans are much more economical on motorways due to their improved aerodynamics.

A-Class or Integrated
Medium or largish 'van completely coachbuilt - i.e. with nothing of the original van bodywork or cab exterior. Potentially the best design since almost everything is based on the needs of motorcaravanners but they are usually rather expensive and historically not that popular in the UK though this is changing. These days they are about 2.2 metres wide like the c-class coachbuilts and often have a transverse 'drop-down' double bed stored in the roof over the cab seats offering much more headroom than the Luton bed in a c-class. Often only 3 berth. The posh end of the market and often referred to as a 'motorhome'.



Driving license
Holders of licences from any EU or EEA nation may drive on their existing licence. Drivers shall be 25-70 years of age, and have held a full licence for 2 years. Licences must be free of endorsements (except minor speeding/parking offences).



Visa
Visa are required by all countries except the following:

Nationals of EU countries, Australia, Canada, Japan and US.
Nationals of Andorra, Argentina, Bahamas, Barbados, Botswana, Brazil, Brunei, British Dependent Territories*, Chile, Costa Rica, Croatia, Cyprus, Czech Republic, El Salvador, Estonia, Grenada, Guatemala, Honduras, Hungary, Iceland, Israel, Jamaica, Korea (Rep. of), Latvia, Lesotho, Liechtenstein, Lithuania, Malawi, Malaysia, Malta, Mexico, Monaco, Nauru, New Zealand, Nicaragua, Norway, Panama, Paraguay, Poland, San Marino, Singapore, Slovenia, South Africa, Swaziland, Switzerland, Tonga, Trinidad & Tobago, Uruguay, Vatican City, and Venezuela.

See also the ministry of foreign affairs in Ireland for more infomation


Health
There are no special health requirements for visitors to Ireland. Health insurance is advisable unless from the UK or other EU countries, most of which have reciprocal agreements with Ireland. Medical facilities are good, and payment for treatment is usually required in cash.


Emergency telephone numbers
Emergency Police, Fire, Ambulance:

Tel: 112 or 999

These numbers are free of charge but should only be used in cases of genuine emergency.
On answer, state which service you require, wait to be connected to that service, then clearly state the location of where the assistance is required.

In the case of a vehicle breakdown:

Automobile Association (AA)
Tel: 1800 66 77 88

RAC Motoring Service
Tel: 1800 535 005


Best time to visit
Ireland has a temperate climate and is cold and damp much of the year. Summer (May to September) is the warmest and driest season and is the best time to visit, though attractions can get crowded in July and August. Winter is characterised by short, wet, foggy days and long night, but the temperature rarely gets below freezing due to the tempering Gulf Stream winds which buffet the west coast of Ireland. Some attractions are only open in summer.
Currency
The Irish unit of currency in the Republic is the euro [€]. The currency is made up of eight euro coins and seven euro notes. The coins are issued in 2 and 1 euros, as well as in 50, 20, 10, 5, 2, and 1 cent pieces. Each coin displays a common face on one side and a participating nation's motif on the opposite side. Regardless of the national motif imprinted, you can use euro coins anywhere within the 12 member nations.