Motorhome rental, RV rent or Campervan hire at Cuba - Alquiler de autocaravana en Cuba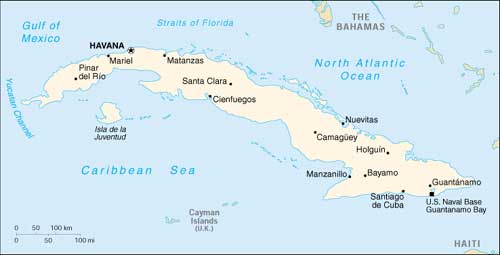 ---
Where to go in Cuba
Havana is a city with a unique culture that seems to have absorbed a wonderful combination of both eighteenth century Spain and 1950s Americana into its own natural rhythm. The Old Town area is an official 'World Heritage Site'. Only an hour's drive from Havana, Jibacao is an idyllic sandy bay overlooked by lush green hills. The coral reefs of Jibacao are excellent for snorkelling and scuba diving, while sailing, windsurfing, cycling and walking are also popular pastimes. Close to Viņales in the west is a dramatic landscape of sheer limestone monoliths, fertile valleys and underground waterways.
The Blue Beach of Varadero stretches for more than ten miles, whilst the clear shallow water is simply stunning and inviting. The best-known of Cuba's wildlife havens, the Zapata Peninsula, 156 km southeast of Havana, is a refuge for many bird and animal species. The scenery is spectacular: flamingos swoop across the milky lagoons, and crocodiles meander out across the dirt roads. The entire region is now a nature reserve. To experience fully the rugged beauty of the Sierra Maestra Mountains, the best base is the Villa Santo Domingo.


Road conditions / driving
Driving in Cuba is on the right-hand side of the road; speed limits are normally posted and generally respected. In recent years, the total number and variety of vehicles in Cuba has increased.
Although the main roads of Havana are fairly well maintained, secondary streets in Cuba often are not. Many roads and city streets are unlit, making night driving dangerous. Some cars and most bicycles lack running lights or reflectors. Unfenced and roaming livestock constitute another possibly dangerous road hazard, especially at night.


Where to camp
There are about 24 parking areas along the island with:
Electricity and water (Included)

Ecological sewer for dumping waste (Included)

Bicycles and horses rental, and other amenities.
Type of motorhome(s)
Motorhomes class C.


Driving license
Minimum age 21 years with driving licence class B.


Visa
You will need a visa to enter Cuba. Visa conditions change regularly. Contact the nearest Embassy or Consulate of Cuba for the most up to date information.


Health
Vaccinations against Hepatitis A and Typhoid are recommended. See MDtravelhealth.com


Emergency telephone numbers
The emergency number for the Cuban police differs from place to place. In Havana dial 82-01-16 or 60-01-06; in Varadero, Trinidad and Santiago dial 116.


Best time to visit
| | |
| --- | --- |
| High season | : January, February, July 15 to August 31, December 15 to 31 |
| Medium season | : March, April, July 1 to 15, December 1 to 14 |
| Low season | : May, June, September, October, November |

In Cuba the hurricane season generally runs from June-November.


Currency
The national cuba currency is the Cuban Peso, which is equivalent to 100 centavos (cents). Notes can be of 1, 3, 5, 10, 20, 50 and 100 pesos. Coins can be of 1, 5 and 20 centavos, and there are others of 1 and 3 pesos. Since 2005, you can no longer use US dollars in Cuba.