Rent a Motorhome, RV or hire a campervan in the USA and travel to Mexico
---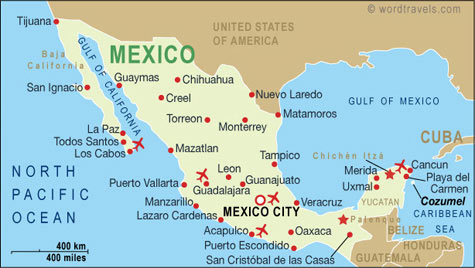 Where to go in Mexico
Mexico has 67 national parks and 41 biosphere reserves. Among Mexico's deserts, rivers and mountains, you'll find more than 5,000 miles of coastline and one of the world's longest underwater cave systems. Mexico offers approximately 450 beaches,throughout Mexico are remnants of pre-Hispanic civilizations such as the Maya, who left behind stepped pyramids made out of stone like the Pyramid of Kukulcan in Chichen Itza, the Temple of the Inscriptions in Palenque and the Pyramid of the Magician in Uxmal.

The Mexican government dedicates substantial resources to protect visitors to major tourist destinations. The most popular destinations are Cancun, Riviera Maya, Los Cabos, and Puerto Vallarta.

Road conditions / restrictions
Mexico has been making huge investments in building and improving its road infrastructure over the last few years. Its intensive network of highways is getting better with time. If you see the sign Cuota, it is a Mexico toll road, Libre means free with no toll. The tol ways are good but some other roads are known for their heavy truck and bus traffic, have potholes, poor or almost non-existent shoulders, and many have loose walking animals.

Where to camp
There are many campsites and free camping is allowed in Mexico. The safest and best way to camp free in Mexico is behind PEMEX gas stations.

Visa
Citizens from Canada, USA, Japan, the United Kingdom of Great Britain and Northern Ireland, or any of the countries of the Schengen Area and people who have a valid visa from the United States of America don't need a visa for a tourist visit less than 180 days.

Emergency telephone numbers
066 or - 065 (Ambulance), 068 (Fire), 060 (Police)

Best time to visit
July and August are hot and very wet on the pacific coast. It's busy due to the school holidays in Mexico and a lot of visitors fromthe USA. December to April are the driest months . Most people visit during this monts, the december holidays are very busy.

May & June are very hot in many areas. September can sometimes bring hurricanes and heavy rains on the Gulf and Pacific coasts.