Motorhome rentals, RV rent or Campervan hire in India and Nepal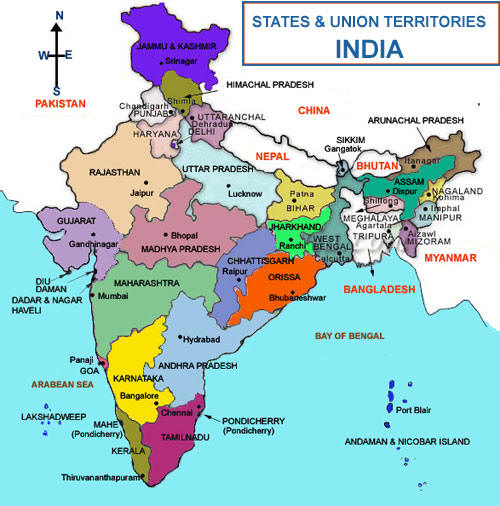 ---
Where to go in India and Nepal
India is easily accessible to foreigners and there are no major restrictions to visit the country. However certain parts of the country have been declared 'Restricted and Prohibited Areas' due to security reasons and need special permits before these can be visited.

There are many safe areas where foreign customers prefer to visit in India & Nepal:

In North of India :- Himachal Pradesh, Uttaranchal and (Kashmir is Restricted area, but people still prefer to visit).

In East of India :- Rajasthan, Entire coastal belt of India :- Mumbai, Goa, Karnataka, Kerala and Tamil Nadu.

In Nepal there is a conflict between maosist, political parties and the government. Please check first the travel advice of the department of foreign affairs in your country.

In Nepal :- Kathmandhu, Dhulikhel, Nagarkot, Kakarni, Jumsung, Godawari, Pokhra, Chitwan National Park.

Finally, crime and other security risks exist in practically all countries, just as they do in Miami or London. Travelling in a group is a safeguard, but not a guarantee. You do need to take at all times sensible precautions yourself.



Road conditions / restrictions
Driving on restricted roads. The places which are mentioned above are well maintained by the government and are sealed / bitumen roads, but please don't expect or compare them with European standard road conditions.



Where to camp
There are about 40 campsites in India & Nepal , some of them are government run and some private owned.



Type of motorhome(s)
There are three type of vehicles available in India & Nepal.


First a motorhome with six wheels.

Second is a campervan with four wheels.

Third is a Fifth Wheel (towing 2 wheels) motorhome.



Driving license
Foreign driver must be over 23 and under 70 years of age and must hold a current international driving permit or license & domestic license issued by your own country, at least 3 years old. The driving license must be unendorsed & clean and must be produced at the time of collecting the vehicle & proof of identity (such as passport or other reasonable proof, including 3 passport size photos, if possible, letter from there embassy) must be produced by hirer at the start of the hire.



Visa
From all countries you need visa for India and Nepal. At the India-Visa site you can find the information about Indian visa. For Nepal look at the site of the department of immigration of Nepal.



Health
In India and Nepal there is malaria risk and other vaccinations are recommended. See MDtravelhealth.com.



Best time to visit
The best time to visit India and Nepal is between September until the end of April. From 1st of May until the end of June there is a 2 months school holiday, but it doesn't influence the occupation of campsites. It is to hot until mid of July. After this it is raining season until the end of August , this period can be considered as low season.

Nepals weather is generally predictable and pleasant. There are four climatic seasons: March to May (spring), June to August (summer), September to November (autumn) and December to February (winter). The monsoon is approximately from the end of June to the middle of September. About 80 per cent of the rain falls during that period, so the remainder of the year is dry. Spring and autumn are the most pleasant seasons.


Currency
In India the Indian Rupee (rs) is the official currency. The Indian Rupee is subdivided into 100 paise. Money exchange through recognised money changing agents or Banks or at the hotel counters. Money changing facilities are also available at the international airports. Please keep certificate of changing money from foreign currency to Indian Rupees safely. You are allowed to rechange your money back in your currency on final departure at the Bank Counter at the airports.

Nepalese Rupee (NRs) = 100 paisa. Notes are in denominations of NRs1000, 500, 250, 100, 50, 25, 20, 10, 5, 2 and 1. Coins are in denominations of NRs5, 2 and 1, and 50, 25, 10 and 5 paisa.
Visitors should bear in mind that foreign visitors other than Indian nationals are required to pay their airline tickets, trekking permits and hotel bills in foreign currency. It is illegal to exchange currency with persons other than authorised dealers in foreign exchange (banks, hotels and licensed money changers). Visitors should obtain Foreign Exchange Encashment Receipts when changing currency and keep them, as these will help in many transactions, including getting visa extensions and trekking permits.



Language
The official language of India is Hindi. Beside Hindi India has 17 officially spoken recognized languages. English remains the additional official language of India. It is the authoritative legislative and judicial language. In fact, one could say that English is the official language in India for all practical purposes. For many educated Indians, English is virtually their first language though a large number of Indians are multi-lingual.

Roughly half the population of Nepal speaks Nepali as a mother tongue, and many other Nepalese speak it as a second language. Nepali is also spoken in northeast India and in much of Bhutan. There are also many other languages, including Maithili and Bhojpuri. English is spoken in business circles and by people involved in the travel trade.