Rent a motorhome in Switzerland - Location camping-car en Suisse - Wohnmobil mieten in die Schweiz
---
Where to go in Switzerland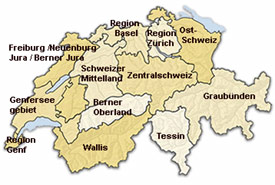 The beauty throughout Switzerland is outstanding and it would be a treat to view the Swiss highlights, which are popular all over the world. The highlights in Switzerland include the UNESCO Heritage sites, travel on Swiss panoramic trains, Swiss spas, Health Resorts, historic site, mountains.

Motorway Vignette Switzerland
In order to use the highways in Switzerland, a toll has to be paid. But there are no toll booth, instead a special sticker - known as the "Autobahn Vignette" - is required. The sticker is valid for one calendar year (January until December), there is nothing like a one day or one week pass. It costs CHF 40.00 and is available at the customs at the borders and at all gas stations and post offices throughout the country.You can also buy a vignette at the Swiss Travel Centre.

The sticker must be fixed to the windshield on cars and trucks, there are particular rules for where it has to be placed on motorbikes. If you don't display a vignette you'll be liable to a fine of CHF100 plus the cost of the vignette. The Swiss Motorway vignettes are valid for multiple re-entries into Switzerland. The vignette is valid between 1st December of the previous year and 31st January of the following year (printed on the vignette). If taking a trailer or a caravan, you will need to purchase an extra vignette.




Road conditions / restrictions
Swiss motorways and secondary roads are excellent and rate among the best in the world. The road system is constantly improved and you will therefore meet roadwork throughout all of Switzerland. Outside rush hours, when it is wise to avoid town centers, motoring is usually trouble-free and often enjoyable when using secondary roads in country areas. In winter, many mountain passes are closed due to heavy snowfall from around November to May. Vehicles using pass roads that remain open require snow chains.

In Switzerland, names of towns are used for navigation on the roads, rather than highway numbers. Signs show the names of the major cities, road numbers are rarely seen. Signs on or for highways use white letters on green background. Signs for major roads use white letters on blue background, signs for local roads use black letters on white background.
Highways in Switzerland are often congested, particularly in summertime. Weekends are especially bad. The most busy highway is the highway A1 between Zürich and Bern, but also the Gotthard tunnel between Göschenen and Airolo is often very crowded. Cars may build up for as long as 20 km and it needs a lot of patience to get to the other side of the Alps. An alternative is to use the San Bernardino pass but congestions are there very likely too.
Where to camp
Camping and caravanparks

Swiss campsites are well managed and are graded.Even the most modest have proper toilet and washing facilities and a shop, while those at the upper end boast swimming pools, supermarkets and a range of creature comforts. Campsites are generally open from April to the mid October, although many sites are open all year round.


Motorhome areas / sanistations (Reisemobil stellplätze)
There are a few motorhome stopover places ( in Germany they call them stellplatz), some even have sanidumps and toilets and showers. Sometimes you can stay for free, others ask a (small) fee.
In Region Geneva it's not allowed to stay the night on public parking places. In Luzern and Nidwalden(Central Switzerland it's often tolerated. In all other regions staying overnight for 1 night is excepted.

Im Kanton Genf ist freies Übernachten auf öffentlichen Parkplätzen überall verboten In Luzern, Nidwalden und Graubünden wird freies Übernachten häufig toleriert. In den restlichen Kantonen ist einmaliges Übernachten auf öffentlichen Parkplätzen statthaft.

Swiss railway passes
Even when you travel with a motorhome, it's a good idea to buy a Swiss railway pass. With a Swiss Flexi pass you can get unlimited travel throughout rail, bus and boat Swiss Travel System network during 3, 4, 5, 6 or 8 days of your choice within 1 month. This pass also covers scenic routes and local trams and buses in 37 towns and cities.

The Swiss Flexi Pass will also offer 50% reduction all most mountain-top trains and cable cars and will include the Swiss Museum Pass, allowing you free entrance to over 400 museums and exhibitions. And children from 6 to 15 years inclusive travel free with a Family Card if accompanied by at least one parent.



Type of motorhome(s)
Hightop
A panel van (delivery van) conversion with a special high fixed roof. The 'wheelbase' of the van chassis has a strong influence on available space since the width is more or less fixed. Long wheelbase chassis give the most space but can be unwieldy to drive. Medium wheelbase is the most popular on newer vans, MWB is not available on older vans. Often known as a 'camper' or 'campervan' or even Dormobile after one of the original manufacturers.

Rising roof
A variant of the above with a 'folding roof' to lower the overall profile. Also known as a 'pop-top'. Has obvious advantages when driving but there are some problems with insulation and water ingress.

C-Class or Coachbuilt
An extended chassis on a van cab with a coachbuilt living space, rather like having a high spec caravan on the back. The wider 'caravan' body allows designers to cleverly incorporate almost everything you could need into a quite small space - even cross-body beds big enough for a six footer. Frequently called a 'motorcaravan'. Also known as a C-Class in the UK. Many have overcab beds in the 'Luton' but there are also 'low-profile' versions of these motorcaravans without the Luton over-cab space and sometimes with a lower roofline, these vans are much more economical on motorways due to their improved aerodynamics.

A-Classor Integrated
Medium or largish 'van completely coachbuilt - i.e. with nothing of the original van bodywork or cab exterior. Potentially the best design since almost everything is based on the needs of motorcaravanners but they are usually rather expensive and historically not that popular in the UK though this is changing. These days they are about 2.2 metres wide like the c-class coachbuilts and often have a transverse 'drop-down' double bed stored in the roof over the cab seats offering much more headroom than the Luton bed in a c-class. Often only 3 berth. The posh end of the market and often referred to as a 'motorhome'.


Driving license
Holders of a full foreign driving license may drive in Switzerland for one year using a foreign or international driving license. Most motorhome rental companies ask at least a one year valid driving licence.


Visa
Who requires a visa?
Visas may not be required of citizens of the following countries, for stays up to 90 days:
(a) nationals of EU countries, Australia, Canada, Japan and US;
(b) nationals of countries in South and Central America (except nationals of Belize, Bolivia, Colombia, Ecuador and Peru who do need a visa);
(c) nationals of Caribbean island states (except nationals of Cuba, Dominican Republic and Haiti who do need a visa);
(d) nationals of Andorra, Brunei, Croatia, Cyprus, Czech Republic, Estonia, Fiji, Hungary, Iceland, Israel, Kiribati, Korea (Rep. Of), Latvia, Liechtenstein, Lithuania, Malaysia, Malta, Monaco, New Zealand, Norway, Poland, San Marino, Singapore, Slovak Republic, Slovenia, Solomon Islands, South Africa, Tuvalu and Vatican City;
(e) nationals of Bosnia-Herzegovina, Former Yugoslav Republic of Macedonia, Turkey and Serbia & Montenegro provided they are resident in Canada, Iceland, Norway, USA or EU countries.

Nationals of countries not appearing above, or those staying longer than 90 days may require a visa.


Health
In general, no special immunizations or medications are necessary for travel to Switzerland. Tick precautions are advised for rural and forested areas


Emergency telephone numbers
Police, tel. 117; Fire, tel. 118; Ambulance, tel. 144 or 177. The breakdown service Touring Secours can be reached by dialing 140.


Best time to visit
Summer lasts roughly from June until September, and offers the most pleasant climate for outdoor activities.If you visit during the spring (April to May) or the autumn (September to October), you're likely to find fewer tourists. Winter sports venues begin operating in late November and close down when the snow begins to melt in spring.


Currency
The Swiss franc divided into 100 centimes is the currency of Switzerland. This is one of the world's most stable currencies, thanks to the neutrality, fiercely conservative monetary policy and ample gold reserves of the Swiss national bank. Swiss francs are shortened either with the official banking name CHF (from the latin name of the country Confederation Helvetica, CH) or sometimes just Fr. or Sfr.


Electricity
Electrical current is 220 volts, 50Hz. Plugs are of the linear, rounded three-pin type, but rounded two-pin lugs will fit the outlet.