Motorhome rentals, RV rent or bush camper hire in South Africa, Namibia, Botswana and Zimbabwe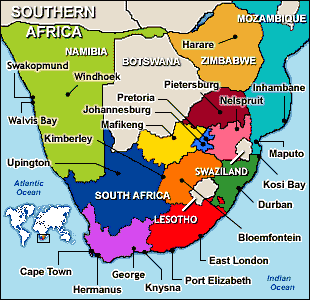 ---
Where to go in Southern Africa

South Africa, located on the southern tip of the African continent, is bordered by Namibia, Botswana, Zimbabwe and Mozambique. When travelling in a motorhome, you can visit South Africa, Namibia and Botswana. If you like to visit other countries you require a 4x4 rental car.
South Africa is also referred to as 'The world in one country'. You can watch wildlife in great national parks, as the world famous Kruger Park, Golden Gate Highlands Park, Addo Elephant Park. Travel the beautiful gardenroute and see southern right whales in the Indian Ocean. Visit Capetown with the legendary Table Mountain, Robben Island and the Cape of Good Hope in the Table Mountain National Park.
In Botswana the Okavango Delta forms an immense inland delta of lagoon and labyrinthine channels. Here and in the nearby Moremi Game Reserve and Chobe National Park you wil find herds of wildlife. The Kalahari desert covers most of Botswana, the central Kalahari Game Reserve is the second largest reserve in the world. From Botswana you can also visit Victoria Falls - one of the Seven Natural Wonders- on the boarder of Zimbabwe and Zambia.
Namibia is known for its contrasting landscapes. The desolate Namib Desert is said to be the oldest in the world, with its high dunes and awe-inspiring sense of space. The Skeleton Coast Park so called because of all the skeletons of shipwrecks and of human beings found ashore, the giant dunes of Sossusvlei, the Etosha (the place of dry water) National Park and the awe-inspiring Fish River Canyon, second biggest canyon in the world are all well worth visiting.
Road conditions / restrictions
Southern Africa has Africa's best, most comprehensive network of established primary and secondary roads, though rural roads are mostly untarred. Driving in Southern Africa is on the left-hand side of the world.
All motorhomes are allowed to travel on any properly tarred surface. Good smooth sand roads are also permitted. Travelling in Zimbabwe is not recommended, since items like fuel or food are currently not always available. If travelling along the Caprivi Strip (Namibia), stay on the tarred road. Wildlife and livestock pose a serious hazard, so it is best to avoid driving at night.

In Namibia is a general speed limit of 120 km/h on tarred roads and 100 km/h on gravel roads. (Max. 80 km/h recommended) and 60 km/h in urban areas. Safety belts must be worn. Road signs use internationally recognized symbols. Road signs warning against animals, particularly Kudu and warthog, should be taken seriously, as these animals wander into the road, especially at night when they are blinded by headlights.
Speed limits in South Africa are 120 kmph on the open road, 100 kmph on smaller roads and between 60 and 80 kmph in towns. Be aware that even major national roads cut through residential areas so there may be a speed limit of 80 or 60kmph on a road that looks like an autobahn
In Botswana, there is a speed limit of 120 kmph (75mph) outside built-up areas, and about 60 kmph (37mph) in built-up areas. Speed limits are strongly enforced with high fines.

Where to camp
You can camp on official camping grounds, some are quite basic but others have many facilities like hot showers and baths, a swimming pool and security fences. Most national parks and game reserves have campsites. Wild camping is possible, but security can be a problem. It's advisable to stay on camping sites. When you are camping in the wilderness be aware of wild animals. In Namibia it's advisable to reserve a campsite, especially in National Parks you have to book some months in advance. In South Africa it is advisable to pre-book accommodation in game parks, hotels and even campsites during the school holidays. School holidays vary slightly for different provinces. For information on schoolholidays in South Africa see www.routes.co.za.

Type of motorhome(s)
Motorhome
Motorhomes for rental are 'C' Class motorhomes equipped with full sleeping, kitchen, dining and bathroom facilities and plenty of storage. Depending on size 2 to 5 people can sleep in the camper.

Campervan
Campervans, are vans adapted by you for sleeping in usually with 2 beds, a very small kitchen and little place to keep your belongings. Campervans are usually expandable to allow standing room, but wind down to be more compact when driving

4WD Bushcamper
A 4WD Bushcamper is even smaller than a campervan, but allows you to travel on unsealed roads. Sometimes the roof is also expandable.

4wd Roof-Top Tent Camper
During the day you are driving a spacious 4x4 car, and at night you fold out a roof-top tent with double-bed to sleep in. Double roof tents are available to accommodate 4 persons.
Driving license
Drivers must be 21 years or older. A valid non-endorsed driver's licence is required - international licence is preferred.
Visa
Namibia

Visitors from the following countries are exempt from visa requirements provided they are in possession of a valid passport, good for at least six months after the intended date of departure from Namibia, in possession of a return or onward ticket or proof of other means of transport enabling them to leave Namibia:
Angola, Australia, Austria, Belgium, Botswana, Brazil, Canada, Cuba, France, Germany, Iceland, Italy, Japan, Kenya, Lesotho, Liechtenstein, Luxembourg, Malawi, Mozambique, the Netherlands, New Zealand, Portugal, Republic of Ireland, Russia, Scandinavian countries, Singapore, South Africa, Spain, Switzerland, Tanzania, UK, USA, Zambia and Zimbabwe.
Botswana
Passports valid for at least six months required. Citizens of the Commonwealth and the following countries do not require visas (for up to 90 days) to enter Botswana:

USA, Sweden, Belgium, Finland, Iceland, Denmark, Norway, Luxembourg, France, Italy, Netherlands, Austria, Germany, Greece, Liechtenstein, Yugoslavia, Switzerland, San Marino, Ireland, Uruguay and Japan.

Visas are required by national of all other countries, which must be purchased before arrival in the country.

South Africa
Visitors from the following countries are exempt from visa requirements provided they are in possession of a valid passport, good for at least six months after the intended date of departure from South Africa, in possession of a return or onward ticket or proof of other means of transport enabling them to leave:

Andorra, Argentina, Australia, Austria, Belgium, Botswana, Brazil, Canada, Chile, Czech Republic, Denmark, Ecuador, Finland, France, Germany, Greece, Iceland, Israel, Italy, Jamaica, Japan, Liechtenstein, Luxemburg, Malta, Monaco, Netherlands, New Zealand, Norway, Paraguay, Portugal, San Marino, Singapore, Spain, St Vincent & the Grenadines, Sweden, Switzerland, United Kingdom of Great Britain and Northern Ireland, British Islands Bailiwick of Guernsey and Jersey, Isle of Man and Virgin Islands, Republic of Ireland, and British Overseas Territories
Health
Namibia

The north of Namibia, including Etosha, is a malaria-endemic area. Some areas (along the northern borders/rivers, Khaudum and Waterberg) are permanent malaria areas. In the other areas (Kaokoland, Etosha towards Waterberg and further east) malaria mosquitoes occur between November and June.

Botswana

Malaria is a particular risk between November and June in the northern parts of the country. There are no compulsory vaccinations, but a yellow fever vaccination certificate is required from travellers over one year of age coming from infected countries. Botswana has a good public health system, but facilities are limited outside urban areas.

South Africa

Malaria risk is a particular risk when travelling between October and May.

High Risk Areas:
Eastern areas bordering Mozambique (mainly Kruger Park) stretching to Messina on Zimbabwean border.
Northern portion of KwaZulu Natal bordering Mozambique (mainly Ndumo and Tembe Elephant Park)

Intermediate Risk Areas:
Eastern area of Swaziland bordering Mozambique.
Eastern areas of north Zululand form St Lucia Lake northwards including Hluhluwe and Mkuze.

Low Risk Areas:
KwaZulu Natal northern area from Tugela northwards to Swaziland excluding higher lying areas.
Area bordering Kruger Park into northern portion of Limpopo province bordering Zimbabwe

For more information about travel health in Africa see also MDtravelhealth.com



Emergency telephone numbers
Botswana
Ambulance: 997
Fire: 998
Police: 999
Med rescue: 911

Namibia
International SOS (Emergency medical service):
Windhoek Tel: + 264 61 230 505 / 249 777
Netcare 911 Namibia: Tel: + 264 61 223 330
Swakopmund Tel: + 264 64 400 700
Tsumeb Tel: + 264 811 285501
Walvis Bay Tel: + 264 64 200200
Cellphone: dial 112
South Africa
Ambulance: 10177 (From mobile phones: 112)
Police or Fire: 10111
Best time to visit
South Africa can be visited all year round. Summer is from October to March with temperatures from 15º C (60º F) at night to 30º C ( 96º F) at noon. Winter is from April to September with temperatures from 0º C (32º F) at night to 18º C ( 66º F) at noon. Despite regional differences, the climate is generally mild throughout the year. Except for the Western Cape, with a Mediterranean climate and winter rainfall, the rest of the country is a summer rainfall area.



The climate in Namibia is semi-arid with temperatures varying from warm to hot. Daytime highs in July (winter): 20-25° C (68-77° F), November (end of dry season): 30-45° C (86-113° F), February (rain season): 25-40° C (77-104° F) - with cold nights during winter time. Namibia has over 300 days of sunshine per year.

Botswana's climate is semi-arid. Though it is hot and dry for much of the year, there is a rainy season, which runs through the summer months ( November - March). Rainfall tends to be erratic, unpredictable and highly regional. The winter season begins in May and ends in August. This is also the dry season when virtually no rainfall occurs. Winter days are invariably sunny and cool to warm; however, evening and night temperatures can drop below freezing point in some areas, especially in the southwest. The in-between periods - April/early May and September/October - still tend to be dry, but the days are cooler than in summer and the nights are warmer than in winter.



Currency
The monetary unit in South Africa is the Rand (R) which equals 100 cents. (International symbol is ZAR).
The Namibian currency is the Namibia Dollar (N$). The Namibia Dollar is linked to the South African Rand in a 1:1 ratio. The Rand is also a valid currency in Namibia.
The currency of Botswana is the Pula (P) which is divided into 100 Thebe (t).
Electricity
Namibia/Botswana
Electrical appliances run on 220 volts. Outlets are of the round 3 pin, 15 amps. type. Adaptors can be bought in most supermarkets.
South Africa
Electricity supply: 220/230 volts AC 50 Hz
Exceptions: Pretoria (230 V) and Port Elizabeth (200/250 V)
Most plugs have three round pins but some plugs with two smaller pins are also found on appliances
Water
Tap water is safe and potable, unless specifically stated at particular locations. Visitors should ensure that they have sufficient (drinking) water when travelling by road. Mineral water is available at most stores.
Time Zones
Botswana/ South Africa: GMT +2 hours
Namibia: GMT +1 hour