Motorhome rental, RV rent and Camper hire in Spain - Alquiler de autocaravanes en Espaņa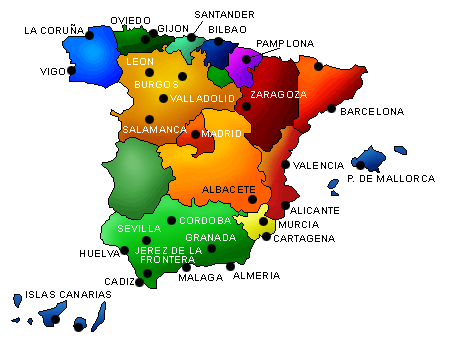 ---
Where to go in Spain
Spain offers sun drenched beaches, marvelous cities, interesting countryside, and a well preserved history.

Catalonia (Catalunya in Catalan) is Spain's most prosperous region, and many fiercely independent Catalans choose to think of their homeland as a separate nation within Spain. It borders France in the north and traces the long Mediterranean coastline, including the rocky Costa Brava north of Barcelona. Catalonia's interior is a largely agricultural region of beautiful, fertile plains and small medieval villages.

The flat, arid plains of Central Spain are punctuated by dozens of castles and palaces marking ancient kingdoms and conflicts. The most prominent geographical feature is the meseta, a broad plateau that consists of Madrid, Old and New Castile, and Extremadura, which makes up about 40 percent of the Iberian Peninsula. Andalusia is the part of Spain that the Moors influenced most distinctly. They ruled Spain for seven centuries, and their dominance and sophistication are evident in the alluring Alhambra palace in Granada, the magnificent Great Mosque in Córdoba, and the arresting Alcázar, or palace-fortress, in Seville. The south of Spain is also home to some of the country's most colorful and traditional local festivals, such as Semana Santa (Holy Week) and the Feria de Abril (April Fair) in Seville. You also see a distinctive Moorish presence in the white villages, or Pueblos Blancos, perched in the Andalusian Mountains.

Road conditions / restrictions
Driving in Spain is on the right side of de road.

Speed Limits in Spain

Built-up areas - 50 km/h
Residential - 20 km/h
Outside Built up areas (including dual carriageways) - 90/100 km/h (as posted)
Motorways - 120 km/h

Useful Road Sign Translations

Aparcamiento - Parking ramp
Ceda el Paso - Give Way
Centro - Town center
Comisaria -Police station
Cuidado - Drive with care
Desvío - Detour
Dirrección Única - One-way street
Obras - Roadworks
Peligro - Danger
Todas Direcciones - All directions


Where to camp
Camping and caravanparks

There are nearly 1200 registered camping grounds in Spain, divided into 1st, 2nd and 3rd categories according to the facilities available. The first catagory has the most facilities but even the most modest have toilet and washing facilities and sometimes a shop. Campsites are generally open from April to the end of September, although many sites are open all year round. Many European seniors stay on campsites during the winter months for the mild climate in Spain.

Motorhome areas / sanistations (Areas de Servicio)

There are a few motorhome service places ( in Spain they call them Area de servicio), with sanidumps, fresh water and sometimes toilets and showers. Sometimes you can stay for free, others ask a (small) fee.

Free camping

It's not allowed to camp free on public grounds. If you would like to camp on private ground you will have to ask permission from the owner. In Aragón it's possible to camp on 'merenderos' , sites with a cabin, benches and a well. In weekends they are very busy with many Spaniards camping.

Type of motorhome(s)
Hightop

A panel van (delivery van) conversion with a special high fixed roof. The 'wheelbase' of the van chassis has a strong influence on available space since the width is more or less fixed. Long wheelbase chassis give the most space but can be unwieldy to drive. Medium wheelbase is the most popular on newer vans, MWB is not available on older vans. Often known as a 'camper' or 'campervan' or even Dormobile after one of the original manufacturers.

Rising roof

A variant of the above with a 'folding roof' to lower the overall profile. Also known as a 'pop-top'. Has obvious advantages when driving but there are some problems with insulation and water ingress.

C-Class or Coachbuilt

An extended chassis on a van cab with a coachbuilt living space, rather like having a high spec caravan on the back. The wider 'caravan' body allows designers to cleverly incorporate almost everything you could need into a quite small space - even cross-body beds big enough for a six footer. Frequently called a 'motorcaravan'. Also known as a C-Class in the UK. Many have overcab beds in the 'Luton' but there are also 'low-profile' versions of these motorcaravans without the Luton over-cab space and sometimes with a lower roofline, these vans are much more economical on motorways due to their improved aerodynamics.

A-Class or Integrated

Medium or largish 'van completely coachbuilt - i.e. with nothing of the original van bodywork or cab exterior. Potentially the best design since almost everything is based on the needs of motorcaravanners but they are usually rather expensive and historically not that popular in the UK though this is changing. These days they are about 2.2 metres wide like the c-class coachbuilts and often have a transverse 'drop-down' double bed stored in the roof over the cab seats offering much more headroom than the Luton bed in a c-class. Often only 3 berth. The posh end of the market and often referred to as a 'motorhome'.

Driving license
All EU driving licenses are recognised and if you are from outside the EU you are advised to have an international driving licence.


Visa
Nationals of the following countries don't need a visa for stays of up to 90 days:
EU countries, Australia, Canada, Japan and US;
Andorra, Argentina, Aruba, Bolivia, Brazil, Brunei, Chile, Colombia, Costa Rica, Croatia, Cyprus, Czech Republic, Ecuador, El Salvador, Estonia, Guatemala, Honduras, Hungary, Iceland, Israel, Korea (Rep. Of), Latvia, Liechtenstein, Lithuania, Malaysia, Malta, Mexico, Monaco, Netherlands Antilles, New Zealand, Nicaragua, Norway, Panama, Paraguay, Poland, San Marino, Singapore, Slovak Republic, Slovenia, Switzerland, Uruguay, Vatican City .

Nationals of countries not appearing above may require a visa to enter Spain.

Health
Spain doesn't require any vaccinations, unless you are coming from an area infected with yellow fever when you may be asked for proof of vaccination.

In a medical emergency, go to the casualty (urgencias) department of the hospital nearest to you. EU residents are entitled to health care in the state hospitals, but it is still a complicated process and you will need your E111 form stamped before you leave home.

Emergency telephone numbers
The emergency number in Spain is 112

Madrid, Barcelona and other large towns
Police: 091
Fire: 080
Ambulance: 092

The Traffic Control Department maintains a network of emergency phones along main roads and provides roadside assistance; call the operator and ask for auxilio en carretera.

Best time to visit
The best time to visit Spain is between April and June and in September or October. At these times you will experience good weather, yet avoid extreme heat and the main crush of Spanish and foreign tourists. In the southern and southeastern Mediterranean coasts the winter is mild. If you arrive in the summer, the northwest, the beaches or high mountain resorts offer you a hideaway from excessive heat. Spain has among the longest school holidays of anywhere in Europe.In the hottest months there is no school between the end of June and mid-September.

Spanish Currency
The Spanish monetary standard is called the euro.