Motorhome rental, RV rent and Camper hire in Iceland - Taka á leigu a motorhome í Ísland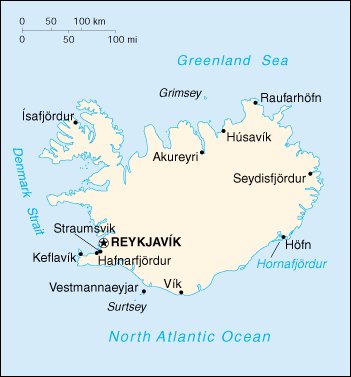 ---
Where to go in Iceland
Iceland's cosmopolitan little capital Reykjavik is site of some of Europe's best nightlife. Geysir is the original geyser after which all other geysers are named. Gullfoss, Europe's largest waterfall is one of Iceland's great treasures, the mystical embodiment of the nation's soul. Iceland's northern capital Akureyriis the place where Reykjavikers head for some sun. Just over a thousand years ago, the world's first parliament was held in Thingvellir, an extraordinary natural amphitheater,which sits in the middle of the Mid-Atlantic Ridge. There are Sagas hidden in the landscape of the Snaefellsness Peninsula and, according to Jules Verne, the gateway to the center of the Earth. Lake Myvatn, in North Iceland, is surrounded by a landscape so otherworldly that Apollo astronauts came here to learn how to moonwalk.

Road conditions / restrictions
You will probably spend a good deal of time on Route 1 , or Hringbraut , the Ringroad , which largely follows the coast in a 1500-kilometre circuit of the country via Reykjavík, Akureyri and Egilsstaðir. With the exception of a long gravel run in the northeast between M4vatn and Egilsstaðir, most of the Ringroad is surfaced, and in winter snowploughs do their best to keep the route accessible to conventional vehicles, though you'll still need to take care and use snow tyres. Stretches around towns might be surfaced, the majority of Icelandic roads are gravel. Some of these are perfectly decent if bumpy to travel over, while many others - such as roads through the Interior - are only navigable in high-clearance four-wheel-drives. Note that interior roads are only open between June and August: exactly when each opens and closes each year - or whether some open at all - depends on the weather, and the going can be difficult even then.


Where to camp
Camping on Iceland

Many Icelandic camping places are located in spectacular surroundings and camping in Iceland's beautiful nature will make your trip exceptional. There are camping places all around Iceland, offering a wide variety of facilities and services. Many have swimming pools close by or offer recreational activities. Camping grounds are normally open from the beginning of June until the end of August or middle of September depending on location.

Wild camping

Wild camping is allowed, provided it is not someone's field, nor within 1 km of an organised campsite, nor in a national park or national nature reserve (look for the green leaf sign). You may not empty toilets or dispose of any other form of waste out in the countryside.

Motorhome tanks can be emptied at the following places:

Reykjavík Capital Area:
Klettagarðar 14 - by Sundahöfn harbour in Reykjavík
Óseyrarbraut 18, Hafnarfjörður
Aðalgata 60, Keflavik - Motel Alex

West-Iceland and the Western fjords:
Fossatún
Breiðavík, near Látrabjarg
Ísafjörður
Þingeyri
Tálknafjörður
Hólmavík

North-Iceland:
Blönduós
Dæli
Ólafsfjörður
Dalvík
Akureyri
Kjarnaskógur forest, Hamrar
Systragil, Fnjóskadalur
Vaglaskógur
Húsavík

East-Iceland:
Hallormsstaðaskógur forest
Skipalækur in Fellabær
Egilsstaðir
Seyðisfjörður
Reyðarfjörður
Höfn in Hornafjörður

South-Iceland:
Kirkjubær in Síða, near Kirkjubæjarklaustur
Reykjamörk camping ground, Hveragerði
Engjavegur camping ground, Selfoss
Flúðir
Hella
Hvolsvöllur
Fljótshlíð



Type of motorhome(s)
Coachbuilt / C-Class

An extended chassis on a van cab with a coachbuilt living space, rather like having a high spec caravan on the back. The wider 'caravan' body allows designers to cleverly incorporate almost everything you could need into a quite small space - even cross-body beds big enough for a six footer. In the UK frequently called a 'motorcaravan'. Also known as a C-Class. Many have a double bed in the cabover. Sometimes they have a fixed double bed or a stack bed. They range from 4 berth to even 6 berth.

Hightop or campervan

A panel van (delivery van) often elegantly converted with a special high fixed roof. The 'wheelbase' of the van chassis has a strong influence on available space since the internal width is more or less fixed. Most campervans are 2-berth, sometimes you can extend the roof and convert the van into 4 sleeping places.

4x4 Wheel drive camper

Four doors, 4x4 Wheel drive, with petrol-fuel,good for use in highlands. When camping, top is lifted.

Driving license
All European and US licences are valid in Iceland. Visitors from other countries should check with their local motoring organisation.. Use of safty belts for passangers, both in the front and rear are mandatory. The headlights must always be on when driving, day or night. The usage of celluar/GSM phones in banned when drinving, use hands free equipment.


Visa
Citizens from the European Economic Area (comprising the EU, Switzerland and Liechtenstein), US, Canada, Australia and New Zealand need only a passport valid for at least three months after the planned date of arrival to enter Iceland for up to three months.

Health
Health care is also excellent and available in most communities, and while language is unlikely to be a problem, tourist offices can also recommend doctors and hospitals - all of whom will anyway be English speaking. No vaccinations are required for visitors to Iceland.

Emergency telephone numbers
If you need police assistance, an ambulance, firefighters or other emergency assistance in Iceland, call 112, which will give instant access to the 24-hour emergency hotline.


Best time to visit
Thanks to the Gulf Stream, Iceland enjoys a cool temperate ocean climate: cool in summer and fairly mild in winter. Although Iceland lies south of the Arctic Circle and therefore doesn't experience a true Midnight Sun , nights are light from mid-May to early August across the country. In the north the sun never fully sets during June. Between September and January the Aurora Borealis or Northern Lights can often be seen. They appear as an eerie, oscillating curtain of green, blue or pale orange light in the night sky.


Language
The native language is Icelandic but most Icelanders speak fluent English. Icelandic is the language of the Vikings (Old Norse). When new words are needed, they simply coin words that are combinations or modifications of old words.


Timezone
In spite of its mid-Atlantic location, Iceland is on Greenwich Mean Time all year round.

Electricity
The electrical current is 220 volts, 50 Hz


Currency
The krona, plural kronur (ISK), is the currency in Iceland