RV rentals , Motorhome rent and Campervan hire in Greece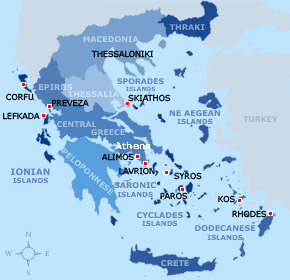 ---
Where to go in Greece
Greece is a sun-drenched country, steeped in history and tradition. From its geographical setting in the eastern Mediterranean, along its unending coastline and surrounding seas dotted with thousands of islands, Greece is a destination filled with history, beauty, and culture. The historical city of Athens,.is home to some of the most significant archaeological and historical sites in the world. The monasteries in Meteora sitting on the top of tall spires of rock were reputedly built to give religious hermits protection from thieves and others who would interrupt their meditations. Delphi offers interesting excavations of the Oracle's world. The Delphi Museum includes the Charioteer and other important statues. Greece also offers more than 1400 islands scattered in both the Aegean and Ionian Sea. 169 of these islands are inhabited. Every islands differs from any other, with its own beauty and charm. There are island or every type of character. The most popular islands of Greece are: Santorini, Mykonos, Naxos, Paros, Corfu, Lefkada, Zakynthos, Kefalonia, Alonissos, Skiathos, Crete and Rhodes.



Road conditions / restrictions
The Greek road network covers a total of about 116,150 km.The road conditions are very different from place to place. The main arterial roads and the national highways are generally safe but there are several motorways considered unsatisfactory. On countryside roads sharp turns are very common. Drivers must be very careful, especially at night. They must remember to have their safety belts on, to drive without exceeding the speed limits (100-120 km/h on highways unless otherwise posted and 50 km/h in residential areas unless otherwise posted) and to drive on the right. Traffic and signaling are the same as in most European countries. Special care should be taken in Greece when crossing unguarded railway crossings. There are high fines for breaking traffic regulations. There are only a few toll roads in Greece, they are called Ethniki Odos and must be paid in cash.

Where to camp
Wild camping and motor home stopovers
Free camping is possible in Greece, but officially it is forbidden. Places mentioned on websites are not official motorhome stopovers but tolorated areas. On most beaches people often spend the night in their campers.

Camping and campsites
An overnight stay on a camping will be at approximately the same tariff as in for example France. Campings that are managed by a family are mostly very friendly. Those who are managed by the government (EOT Campings), are often not very friendly and not very well kept.


Type of motorhome(s)
A-Class Motorhomes
A class represents all motorhomes that are 'coach shaped' the smooth lined body added to a bare chassis cowl.

B-Class Motorhomes
B Class these are panel vans (such as transit vans) fitted out as motorhomes. These are also called day-vans and camper vans.

C-Class Motorhomes
C class refers to a chassis cab conversion with purpose built 'caravan' body attached.


Driving license
EU citizens can use their national driving license. All other visitors must carry an International Driving License.


Visa
All E.U. citizens can enter Greece without a passport or visa. A valid ID card is required. British citizens should have their passport as they have no other ID card. Driving licenses are not accepted instead of an ID card. Citizens of all other countries should contact the nearest Greek Consulate office or the Greek Embassy in order to be properly informed on visa requirements.

Health
No vaccinations are required before entering the country. For visitors at high risk of rabies infection, vaccination should be considered. A yellow fever vaccination certificate is required from all travelers over six months of age coming from infected areas.

Emergency telephone numbers
General European emergency number 112
Ambulance 166
Police 100
Fire 199
Auto Road Assistance ELPA 104


Best time to visit
The best months to visit the islands are May, June, early July, September and early October. Avoid the dates July 20th to August 20th which are the busiest of the tourist season, and late October because the weather gradually becomes rough. If you want to visit the mainland, then March, April, May, June, September and October are suitable months. July and August are very warm and busy.

Electricity
The power supply in Greece is 220 V AC at 50 Hz. You may require an adapter for the round two-pin sockets in use in Greece. Power cuts are not uncommon

Currency
The new monetary currency is the Euro which is divided as follows: bills of 5, 10, 20, 50, 100, 200, 500; coins of 1, 2, 5, 10 Euros, 20 and 50 cents.


Language
The predominant language in Greece is Modern Greek (Demotike), with its origins dating back 3,500 years. English and French are also used as well as, to a lesser degree, German. Tourism is one of the largest trades in Greece, so visitors should get by with a basic understanding of any of these languages.