Motorhome rental, RV rent and Campervan hire in Chile - Alquile un autocaravana en Chile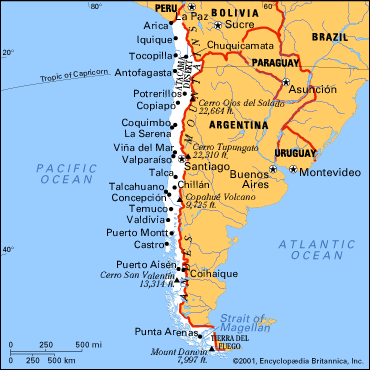 ---
Where to go in Chile
The north of Chile, Atacama and Altiplano is a stark desert landscape, which attracts visitors for its natural beauty. It offers fascinating wildlife, which is protected by a series of national parks. The Lauca National Park is the most visited and supports vicuñas, condors, vizcachas, guanacos, flamingos and herds of llamas and alpacas, which are kept by the Aymara shepherds. Santiago, Chile's capital city, is located in the country's central valley region where the well-known Chilean wines originate. Southern Chile, Araucania is one of the most attractive areas for visitors, thanks of its numerous lakes and lagoons, white-water rivers, fertile valleys, millenarian forests, and a chain of national parks crowned by the peaks of numerous active volcanoes. In Patagonia you will find huge lakes, glaciers, icebergs, evergreen forests and hundred of miles of vast, treeless plains under the clear sky of the southernmost tip of the world. The Torres del Paine National Park is an absolute must, as is Lake Grey and Glacier Grey and the Laguna St Rafael.


Road conditions / restrictions
In town, the speed limit is 60 km/h, outside max. 100 km/h - and you wouldn't want to drive any faster anyway, given the state of most roads. On some portions of the new highways, 120 km/h are allowed. Speeds are checked often, espessialy on highways and freeways, punishment is harsh and involves a frequently tiresome bureaucratic procedure.Most secondary roads are not paved, and gravel roads of widely varying quality can deteriorate, especially from long rains. Less experienced driversshould be especially cautious on such roads. It is a good idea to carry a second spare tire for longer tours on gravel. On the major arterials leading out of Santiago as well as on some portions of the Panamericana, you have to pay toll at a station (approx. USD 3.00, double that on weekends.) The

Panamericana

is currently being expanded north and south of Santiago and within the capital to turn it into a modern two-to-three-lane freeway with the addition of more toll stations.



Where to camp
Especially in some of the National Parks, tent camping is the only option. Most camping sites have only modest facilities; showers and hot water are an exception.

In the tourist centers, privately run sites often offer more comfort, but sometimes only at a considerable price. Unregulated camping is legal in most National Parks, and it is usually not a problem in remote areas; however, one should try and ask the owner of the land for permission. Important: Leave no traces and take your trash.

Type of motorhome(s)
Motorhome
Motorhomes for rental are 'C' Class motorhomes equipped with full sleeping, kitchen, dining and bathroom facilities and plenty of storage. Depending on size 2 to 5 people can sleep in the camper.

Campervan
Campervans, are vans adapted by you for sleeping in usually with 2 beds, a very small kitchen and little place to keep your belongings. Campervans are usually expandable to allow standing room, but wind down to be more compact when driving

4WD Bushcamper
A 4WD Bushcamper is even smaller than a campervan, but allows you to travel on unsealed roads. Sometimes the roof is also expandable.

4wd Roof-Top Tent Camper
During the day you are driving a spacious 4x4 car, and at night you fold out a roof-top tent with double-bed to sleep in. Double roof tents are available to accommodate 4 persons.


Crossing to Argentina
You may cross to Argentina with the motorhome / camper but you need a special notarial permission which has to be prepared beforehand and which is valid for a period of 15 - 30 days. This permission allows you to cross the border unlimited times. The vehicles can only be used in Chile and Argentina. Additionally you have to take out an international car and third party liability insurance for Argentina, which costs differ according to the vehicle type and the duration of the stay.

Driving license
To drive a motor caravan in Chile you must be 23 years old. You do not need a special driving license but it is recommend to carry along an international driving license.


Visa
Short-term visitors of Australia , New Zealand , Great Britain , Canada , the USA , South Africa , as well as most EU countries do not need a visa , just their passport. Upon entry, they will receive a "Tarjeta de Turismo" (Tourist Card) which is valid for 90 days and has to be presented when leaving the country. Find a safe place for this inconspicuous piece of paper! If you do loose it, get a replacement in plenty of time before your departure (Policía Internacional in Santiago, General Borgoño 1052, or at a police station in one of the regions.) Those trying to leave without the card will most likely miss their flight or be kept waiting at the border for a long time.


Health
In Chile there is no need to fear any specific health hazards. No special shots are necessary; there is no malaria or cholera. It is, however, advisable to update one's standard protection against typhoid, poliomyelitis, hepatitis, and tetanus. Beware of tap water, raw vegetables and fish or other seafood, raw eggs, and food offered in the streets. Wash and peel all fruit and vegetables carefully.



Medical treatment

in private hospitals in Santiago and other major cities is comparable to top international levels. Before you leave for Chile, check with your existing health insurance on their coverage of international travel, or get additional insurance. Private hospitals will recognize credit cards as a guarantee. All drugs are available, and most doctors speak English. Appropriate medical care can be more difficult to get in rural hospitals or at First Aid posts.


Emergency telephone numbers
| | |
| --- | --- |
| Emergency | 131 |
| Fire | 132 |
| Police | 133 |
Best time to visit
Much of Chile has a mountain climate, with continual snow and glaciers in the higher areas. The north of the country is desert, one of the driest regions in the world, and is temperate and attractive year round. It is warm during the day, but can be quite cold during the night.
The Altiplano has a rainy season from December to January, although rainfall is usually limited to an afternoon storm. Central Chile has a Mediterranean climate, with warm summers and mild winters, and is best visited in the spring or autumn. The southern region has a changeable cool and wet climate.
Torres del Paine and the Lake District are best visited in the southern hemisphere's summer. The islands are best visited outside the summer months, when they are cooler, drier and less crowded.
Currency
The currency is the Chilean Peso, divided into 100 Centavos.
Electricity
The voltage is 220 V / 50 Hz, and appliances also need an adapter (adaptador) to plug into the Chilean sockets, which can be found in supermarkets or specialty stores.


Time Zone
UTC/GMT minus 4 hours. Daylight savings time in Chile starts on the second Sunday in October and ends on the second Sunday in March.