Motorhome rental, RV rent and Campervan hire in Sweden - Hyra husbil i Sverge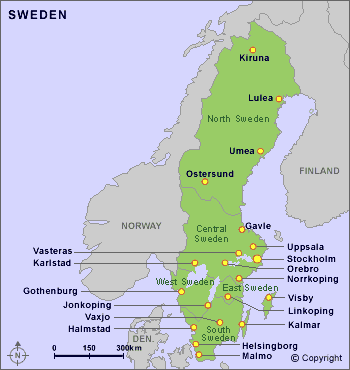 ---
Where to go in Sweden
Sweden is the third largest country in western Europe. Because of its long, narrow shape and northerly location, the landscape is highly diversified. Its forests are starkly beautiful, its lakes giant. Stockholm, the country's capital, is a progressive city with pockets that maintain a village feel. Gothenburg and Malmö also beckon with urban delights. Away from the cities, Sweden takes in vast areas of scenic coastline and idyllic islands. The wilderness areas of Norrland have the legendary midnight sun in summer, Arctic Scandinavia's highest mountain and marvelous hiking trails.


Road conditions / restrictions
Sweden, like most European countries, has right-hand traffic. Swedens roads are generally very good. Secondary roads may be less heavily traveled due to Sweden's sparse population outside the major urban areas. These secondary routes often narrow to two lanes with a wider shoulder. Slower vehicles are expected to move onto the shoulder to allow faster moving vehicles to pass. All vehicles must have headlights lit when on the road, no matter what time of day. The use of snow tires is mandatory between December 1 and March 31 and, due to the country's northerly climate, experience in driving on ice and snow is recommended before negotiating Sweden's winter roads.


Where to camp
Allemansrätten, or the right of common access, gives everybody the right to use private as well as public land and waterways for certain activities such as hiking, camping, jogging or boating provided that no damage is caused to the land. You must also show consideration to other people and animals and respect the wishes of private landowners. This means that you cannot camp, walk or sail too close to houses and private gardens. First ask permission from the landowner if you plan on staying overnight with your motorhome.


Type of motorhome(s)
Hightop
A panel van (delivery van) conversion with a special high fixed roof. The 'wheelbase' of the van chassis has a strong influence on available space since the width is more or less fixed. Long wheelbase chassis give the most space but can be unwieldy to drive. Medium wheelbase is the most popular on newer vans, MWB is not available on older vans. Often known as a 'camper' or 'campervan' or even Dormobile after one of the original manufacturers.

Rising roof
A variant of the above with a 'folding roof' to lower the overall profile. Also known as a 'pop-top'. Has obvious advantages when driving but there are some problems with insulation and water ingress.

C-Class or Coachbuilt
An extended chassis on a van cab with a coachbuilt living space, rather like having a high spec caravan on the back. The wider 'caravan' body allows designers to cleverly incorporate almost everything you could need into a quite small space - even cross-body beds big enough for a six footer. Frequently called a 'motorcaravan'. Also known as a C-Class in the UK. Many have overcab beds in the 'Luton' but there are also 'low-profile' versions of these motorcaravans without the Luton over-cab space and sometimes with a lower roofline, these vans are much more economical on motorways due to their improved aerodynamics.

A-Class or Integrated
Medium or largish 'van completely coachbuilt - i.e. with nothing of the original van bodywork or cab exterior. Potentially the best design since almost everything is based on the needs of motorcaravanners but they are usually rather expensive and historically not that popular in the UK though this is changing. These days they are about 2.2 metres wide like the c-class coachbuilts and often have a transverse 'drop-down' double bed stored in the roof over the cab seats offering much more headroom than the Luton bed in a c-class. Often only 3 berth. The posh end of the market and often referred to as a 'motorhome'.


Driving license
The legal driving age is 18 and you are expected to have your driver's license with you when driving. A foreign driver's license is valid for a maximum of one year.


Visa
If you are a citizen of a non-Nordic EU/EEA country (Austria, Belgium, the Czech Republic, Cyprus, Estonia, France, Germany, Greece, Hungary, Ireland, Italy, Latvia, Liechtenstein, Lithuania, Luxembourg, Malta, the Netherlands, Poland, Portugal, Slovakia, Slovenia, Spain and the United Kingdom) or Switzerland, you do not require a visa if you are intending to stay in Sweden for less than three months. Visitors from other countries should check the site of the Sweden Government for information about visa.


Health
The Swedish medical system is a state-run system so instead of visiting a local private general practitioner, travelers can visit a local medical center or clinic, called an "Akutmottagning" or "Vardcentral." Patients should be prepared to present their passports.


Emergency telephone numbers
In case of emergency, dial 112 to contact police, fire brigade or ambulance. Emergency calls made from payphones are free of charge.


Best time to visit
Sweden is located at the same latitude (55oLat South/69 oLat North, 11oLong East/24 oLong West) as Alaska, Labrador, and Kamchatka. The Gulf Stream gives Sweden a mild climate, with hot summers and cold winters. This causes a large difference in the temperature between the Northern and Southern parts of Sweden.

In the winter, the northern region experiences arctic winters, and a display of the Aurora Borealis or Northern Lights. In the summer, the sky is always bright, with only a brief period of darkness between sunset and sunrise. The sun never sets it stays above the horizon at midnight, before it starts to rise again.

Currency
Swedish Crown (Svenska Krona) 1 = 100 öre. Bank notes are available in denominations of 20, 50, 100, 500 and 1,000 kronor, coins in 50 öre, 1, 5 and 10 kronor. All major bank and credit cards are widely accepted throughout Sweden. (1 Euro = approx. SEK 9).