Rent a motorhome in Belgium - Location camping-car en Belgique - Huur een camper in BelgiŽ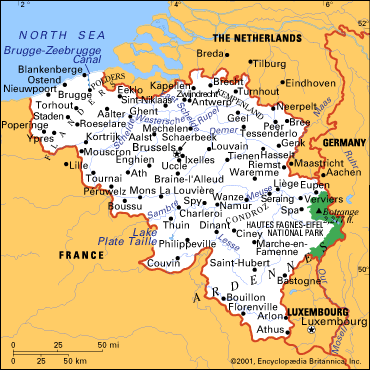 ---
Where to go in Belgium
Belgium is known for its art, cathedrals, medieval cities and castles, fine chocolates, beers, gourmet foods and friendly, hospitable people. The coastal area is a series of sandy beaches, backed by protecting dunes. Inland, up to the Meuse River, the land is generally flat, with numerous canals and dikes. It's criss-crossed by many small tributaries of the Schelde River. East of the Meuse, forested hilly conditions rise to the flat-topped mountains of the Ardennes Region. Hoighlights are the medieval town of Brugge, Gent and the bustling capital of Brussels.

Road conditions / restrictions
Belgian urban highways are generally well built and maintained .The maximum speed limit on Belgian highways is 120 kilometers (72 miles) per hour, but it is posted only at Belgium's borders and on roads leaving major airports. The maximum speed in urban areas is normally 50 km (30 miles) per hour.

Where to camp
Wild camping
Wild camping is forbidden in Belgium.

Motorhome stopovers (camperovernachtingsplaatsen / aires de camping-car)
There are quite a lot of motorhome stopovers, the so called "Aire de camping-car or Aires de services or Aires de stationnement " along the way convenient for the overnight stops.

Campings and campsites
. A basic campsite normally offers a tap, a flush toilet and a shower. In Belgium basic campsites are hard to find. They have been replaced by or upgraded to 'modern' campsites.
A 'modern' campsite offers far more facilities such as indoor and outdoor pools, tennis, golf, surfing, disco, bars, restaurants and your own privately marked space with electricity, water and internet connection.

Type of motorhome(s)
A-Class Motorhomes
A class represents all motorhomes that are 'coach shaped' the smooth lined body added to a bare chassis cowl.

B-Class Motorhomes
B Class these are panel vans (such as transit vans) fitted out as motorhomes. These are also called day-vans and camper vans.

C-Class Motorhomes
C class refers to a chassis cab conversion with purpose built 'caravan' body attached.
Share a motorhome
Funshare Belgium in Leuven, offers the possibilitie to own a new motorhome on a time-sharing basis.

Driving license
Driving licences issued in EU countries are valid for use in Belgium for the period of their validity. Non-EU nationals can use their own licence together with an international driving licence. Most rental companies requier that the driver must be at least 23 years old.

Visa
General European Visa rules apply.

Health
No vaccinations are required. Medical facilities and care in Belgium are excellent but expensive so travellers are advised to take out medical insurance. UK citizens receive emergency medical care for a reduced cost, but should have a European Health Insurance Card (EHIC), to qualify.

Emergency telephone numbers
The emergency numbers for the police and medical assistance are 101 and 100, respectively, and for cellular phones 112

Best time to visit
The Belgian climate is mild with cold, damp winters and warm summers and its capital is no exception. Rain is also a predominant feature of Belgium's weather pattern.Summer is the best time of the year to sit by the canals or take a bike trip through the country. Spring is a good time to visit too, as the bulb flowers are in full bloom in this season. April is the best month for daffodils, May for tulips.

Language
There are three officially recognized languages: French and Dutch are the main languages; German is spoken by a small segment of the population and English is widely spoken. Flemish is officially spoken in Flanders in the north-west of the country (57 % of total population), French is the official language in Wallonia in the south-east (43% of total population) and German is spoken only by a 1% minority in the eastern part of the country. In Brussels, French and Flemish have equal status.

Electricity
220 volts, 50Hz. European-style two-pin plugs can be used.