Motorhome rental, RV rent and Campervan hire in Canada - Louez un camping-car au Canada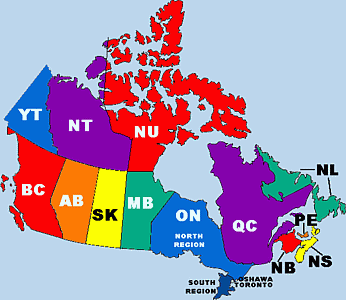 ---
Where to go in Canada
Canada is the second largest country in the world and has the world's longest coastline.
Explore the majesty of the Rocky Mountains as they unfold before you in an RV rental as you travel the scenic highways in a camper, van or motorhome. What better way to discover the Rockies and the rest of Canada then in your own RV. Set your own itinerary and travel at your own pace, as you drive through Banff, Lake Louise and Jasper. Extend your holiday and take a trip to the coast of British Columbia or to the wilds of northern Canada. The possibilities are almost endless.


Road conditions / restrictions
You have to ask permission from the motorhome rental company for driving in the U.S. (including Alaska). The rental company will probably charge an extra fee for extra insurance coverage.

When traveling to the north (Alaska , Yukon, Northwest Territories, Demster Hwy) there may be a northern surcharge to all rental vehicles due to rougher road conditions. Check the rental terms and conditions for extra surcharges.
Where to camp
Public campgrounds
Public campgrounds are managed by federal, state, and local agencies. Counties and townships also manage campgrounds. Most public campgrounds are geared toward tent camping, although many offer a limited number of hookups for recreational vehicles. Campsites from the federal government are closed in winter.

National Park campgrounds

National Park campgrounds are invariably clean and efficiently run. The Forest recreation sites offer rustic camping, maintained trails and interpretative forest sites.


Private campgrounds

Privately operated campgrounds offer an alternative to those run by public agencies. They are a bit expencive, but often offer great facilities.

Free camping or boondocking

In Canada it is allowed to overnight on every restplace along the highways.

Type of motorhome(s)
Truck Camper
Compact size makes the truck camper a convenient RV for local travel to and from the campsite. A unit loaded onto, or affixed to, the bed or chassis of a pickup, the truck camper is popular for back road journeys, accessing remote locales and family recreational camping.

Type A Motorhome
The Class "A" is the largest type of motor home, ranging in size from 30 to 36 feet. The overall appearance of a Class A is similar to a bus, however no special license or training is needed. The primary advantage to these motorhomes is space. There is plenty of room to move about inside. Most of them come equipped with television

Type B Motorhome
The Van Conversion is a Type B Motorhome, ranging in size from 18 to 24 feet. Regular and Deluxe Van Conversions are for people who don't want to drive a big motorhome or tow a trailer. It is easy to drive, easy to park and even easier to live in.

Type C Motorhome
The Class C motorhome is typically smaller than the Class A, ranging in size from 18 to 29 feet. The biggest advantage of Class C motorhomes is sleeping space. Class C motorhomes have cabover beds which provide extra sleeping quarters.

5th Wheel / Fifth Wheel Trailer
Fifth wheel trailers are two-level pickup truck RVs. One level follows your truck, the other level of the fifth wheel rests in the truck bed. It sleeps two to six people, depending on model and floorplan. Towing a Fifth Wheel is much easier and much more stable than towing another type of RV and the trailer can be easily unhooked from the truck.



Driving license
All drivers must possess a driver's license valid for the entire rental period. For foreign tourists an international driver's license is recommended.

Visa
Many people do not require a visa to visit Canada. These include:
citizens of Andorra, Antigua and Barbuda, Australia, Austria, Bahamas, Barbados, Belgium, Botswana, Brunei, Cyprus, Denmark, Estonia, Finland, France, Germany, Greece, Iceland, Ireland, Israel (National Passport holders only), Italy, Japan, Liechtenstein, Luxembourg, Malta, Mexico, Monaco, Namibia, Netherlands, New Zealand, Norway, Papua New Guinea, Portugal, Republic of Korea, St. Kitts and Nevis, St. Lucia, St. Vincent, San Marino, Singapore, Solomon Islands, Spain, Swaziland, Sweden, Slovenia, Switzerland, United States, and Western Samoa;
persons lawfully admitted to the United States for permanent residence who are in possession of their alien registration card (Green card) or can provide other evidence of permanent residence.
British citizens and British Overseas Citizens who are re-admissible to the United Kingdom;
citizens of British dependent territories who derive their citizenship through birth, descent, registration or naturalization in one of the British dependent territories of Anguilla, Bermuda, British Virgin Islands, Cayman Islands, Falkland Islands, Gibraltar, Montserrat, Pitcairn, St. Helena or the Turks and Caicos Islands;
persons holding a valid and subsisting Special Administrative Region passport issued by the Government of the Hong Kong Special Administrative Region of the People's Republic of China;
persons holding passports or travel documents issued by the Holy See.
Health
It is vital to have travel insurance against potential medical expenses. Canada has an excellent health service, but it costs nonresidents anything between $50 and $1000 a day to use. There is no free treatment to nonresidents, and in some provinces doctors and hospitals add a surcharge to treatment meted out to foreigners. If you have an accident, medical services will get to you quickly and charge you later.
Emergency telephone numbers
In an emergency situation (you are being or have been a victim of a crime, accident, or fire,) dial 911 for the police or other emergency services.


Best time to visit
In winter, temperatures fall below freezing point throughout most of Canada. But the south-western coast has a relatively mild climate. Along the Arctic Circle, mean temperatures are below freezing for seven months a year. During the summer months the southern provinces often experience high levels of humidity and temperatures that can surpass 30 degrees Celsius regularly.Western and south-eastern Canada experience high rainfall, but the Prairies are dry with 250 mm to 500 mm of rain every year.
Time Zones
In Canada, Time Zones and Daylight Saving Time usually have been regulated by Canadian provincial and territorial governments.Exceptions may exist in certain Canadian municipalities. Clocks in Canada are turned forward by one hour on the second Sunday of March to the first Sunday of November.

Canada uses six of the world's 24 time zones. From east to west they are:
Newfoundland Time
Atlantic Time
Eastern Time
Central Time
Mountain Time
Pacific Time
To convert time zones ask the Time Zone Converter