Motorhome rental, RV rent in Germany - Ein wohnmobil oder reisemobil mieten in Deutschland
---
Where to go in Germany
Germany stands out by the variety of different landscapes from north to south and some truly breathtaking scenery. Especially when traveling with a motorhome, touring along the dozens of tourist routes is a great way to see a part of the country. Very popular routes are the Romantic Road, Castle Road and Fairy Tale Road. Highlights include the Rhine and Moselle valleys, the Bavarian Alps and lakelands, the Baltic coast, the Harz mountains, Lake Constance, Saxon Switzerland, the Black Forest, the Bavarian Forest and the volcanic Eifel region.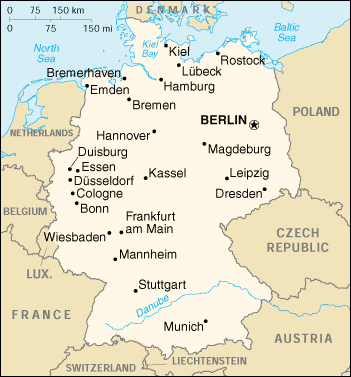 Road conditions / restrictions
The road and railway infrastructure in Germany is second to none in Europe and makes touring the country easy and pleasant. Driving in Germay is on the right-hand side of the road. If you want to see more of Europe, cross-continental traveling with a motorhome rented in Germany is possible. For countries outside Europe, for instance the Asian part of Turkey, Israel, Tunesia, Morocco or the Asian part of the former USSR special insurance coverage is required, inform at your rental company if you can go and what extra measures should be taken.


Where to camp
Camping and caravanparks

German campsites are well managed and are graded (effectively from 'good' to 'excellent'). Even the most modest have proper toilet and washing facilities and a shop, while those at the upper end boast swimming pools, supermarkets and a range of creature comforts. Campsites are generally open from April to the end of September, although many sites are open all year round. In Germany it is common practice for campsites to close for a midday rest period (Mittagsruhe).

Motorway service stations
Camping at motorway service stations is permitted for up to 24hrs.

Motorhome areas / sanistations (Reisemobil stellplätze)

There are many motorhome stopover places ( in Germany they call them stellplatz), some even have sanidumps and toilets and showers. Sometimes you can stay for free, others ask a (small) fee. On our Germany campsites page you can even find sites where you can downlowd GPS-cordinates for your navigationsystem.


Type of motorhome(s)
Hightop
A panel van (delivery van) conversion with a special high fixed roof. The 'wheelbase' of the van chassis has a strong influence on available space since the width is more or less fixed. Long wheelbase chassis give the most space but can be unwieldy to drive. Medium wheelbase is the most popular on newer vans, MWB is not available on older vans. Often known as a 'camper' or 'campervan' or even Dormobile after one of the original manufacturers.

Rising roof
A variant of the above with a 'folding roof' to lower the overall profile. Also known as a 'pop-top'. Has obvious advantages when driving but there are some problems with insulation and water ingress.

C-Class or Coachbuilt
An extended chassis on a van cab with a coachbuilt living space, rather like having a high spec caravan on the back. The wider 'caravan' body allows designers to cleverly incorporate almost everything you could need into a quite small space - even cross-body beds big enough for a six footer. Frequently called a 'motorcaravan'. Also known as a C-Class in the UK. Many have overcab beds in the 'Luton' but there are also 'low-profile' versions of these motorcaravans without the Luton over-cab space and sometimes with a lower roofline, these vans are much more economical on motorways due to their improved aerodynamics.

A-Class or Integrated
Medium or largish 'van completely coachbuilt - i.e. with nothing of the original van bodywork or cab exterior. Potentially the best design since almost everything is based on the needs of motorcaravanners but they are usually rather expensive and historically not that popular in the UK though this is changing. These days they are about 2.2 metres wide like the c-class coachbuilts and often have a transverse 'drop-down' double bed stored in the roof over the cab seats offering much more headroom than the Luton bed in a c-class. Often only 3 berth. The posh end of the market and often referred to as a 'motorhome'.



Driving license
Minimum age of the renter and the driver is from 21 years of age depending on the rental company. The driver should be in possession of a valid class 3 driving licence (German class B) for at least one year. Please note that some models have a gross weight of over 3.5 tons and require an other (appropriate) licence.


Visa
People from European Union countries and from states with which special agreements have been made don't need a visa for stays up to 3 months:
Nationals of American Samoa, Andorra, Argentina, Bermuda, Bolivia, Brazil, Brunei, Chile, Colombia, Cook Islands, Costa Rica, Croatia, Cyprus, Czech Republic, Ecuador, El Salvador, Estonia, Guam, Guatemala, Honduras, Hungary, Israel, Korea (Rep. of), Latvia, Lithuania, Macau, Malaysia, Mexico, New Caledonia, New Zealand, Nicaragua, Niue, Norway, Panama, Paraguay, Poland, Singapore, Slovak Republic, Slovenia, Uruguay, USA, Vatican City, Venezuela and US Virgin Islands.

The passport must not expire before the end of the scheduled trip.

Health
Good medical care is widely available in Germany. Doctors and hospitals may expect immediate payment in cash for health services from tourists and persons with no permanent address in Germany. Most doctors, hospitals and pharmacies do not accept credit cards.


Emergency telephone numbers
The emergency numbers in Germany are 110 (Police) and 112 (Fire Brigade).


Best time to visit
Germany's climate is almost as varied as its country but it is mostly temperate. Extreme temperature lows and highs are rare. Winter temperatures vary from west to east, with around freezing temperatures in the west and well below freezing in the east of Germany. Summer temperatures are typically between 20°C and 30°C, with more rainfall during the summer months. The Bavarian Alps, Germany's mountain area in the south offers excellent wintersport opportunities.