Australia Motorhome rental, Campervan hire, RV rent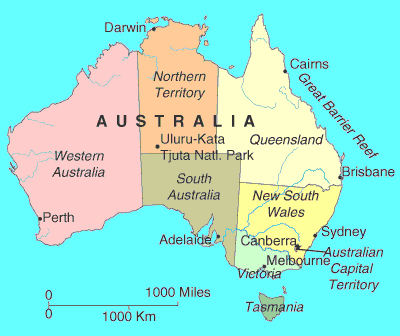 ---
Where to go with a motorhome in Australia
Sydney is considered the most beautiful town on earth. The Great Barrier Reef is the largest coral reef on earth and also one of the most accessible. North Queensland's rainforest has the highest diversity of local endemic species in the world. Ayers Rock is the world's largest monolith. The richness of Kakadu defies description. Melbourne is Australia's financial and commercial heart. At Ningaloo Reef you can snorkel with whale sharks. Western Australia's Bungle Bungle Range form one of the most astonishing natural features in the world. At Kangaroo Island you can find native animals like koalas, echidnas, platypi, goannas, wallabies, kangaroos, seals and little penguins.
Road conditions / restrictions
Australia is a great country to visit by motorhome. Roads are well maintained and signposted. Driving in Australia is on the left-hand side of the road.
Motorhomes can only be driven on sealed bitumen or other well-maintained public roads in all states of Australia. 4WD vehicles are permitted to go off-road but are restricted to recognized four wheel drive tracks. Special permits are required to enter isolated areas.

Road speed limits differ between states but are generally 100-110kph on the highways and 50-60kph in built-up areas.



Where to camp
Caravan Parks in Australia offer a wide range of facilities. Many have swimming pools, children's playgrounds, recreation rooms, campers kitchens as well as shops, barbeques, laundries with washing machines and dryers.
Wild Camping in Australia can be made in areas designed or approved of, or areas without restrictions by the Council or State Governments. In most Australian cities, you cannot camp on the beach or public parks, but in remote areas it's alright as long as nobody owns the land or it is in a protected area. To camp in national parks or nature reserves you need a permit (paid) from a ranger or local councils. Bush camping is only permitted 100 meter away from any road, walking track or parking area (which is a bit difficult when you travel by motorhome).
The book Camps Australia Wide is not only a guide to camping spots for certain areas, but encompasses the whole of Australia, showing rest areas, free camps, low-cost caravan parks, national parks, state forests, state parks and reserves to park your rv.
Type of motorhome(s)
Motorhome
Most motorhomes for rental are 'C' Class motorhomes equipped with full sleeping, kitchen, dining and bathroom facilities and plenty of storage.

Campervan
Campervans, are vans adapted by you for sleeping in usually with 2 beds, a very small kitchen and little place to keep your belongings. Campervans are usually expandable to allow standing room, but wind down to be more compact when driving

4WD Bushcamper
A 4WD Bushcamper is even smaller than a campervan, but allows you to travel on unsealed roads. Sometimes the roof is also expandable.

4wd Roof-Top Tent Camper
During the day you are driving a spacious 4x4 car, and at night you fold out a roof-top tent with double-bed to sleep in.
Driving license
To rent a motorhome or campervan you require a full driving licence with a minimum of 12 months driving experience. An International Licence is required when the driving licence is not in English. The age limit for hiring a motorhome is mostly 21 years.
Visa
If you are planning a motorhome holiday or a short business trip to Australia, you will need to apply for either a visa or an ETA (Electronic Travel Authority). An ETA will let you spend up to three months in Australia. You can apply for an ETA on http://www.eta.immi.gov.au .
For longer stays you will need to apply for a visa from your nearest Australian Visa office.

Travellers holding the following passports may now apply for an ETA:

Andorra, Austria, Belgium, Brunei, Canada, Denmark, Finland, France, Germany, Greece, Hong Kong SAR, Iceland, Ireland, Italy, Japan, Liechtenstein, Luxembourg, Malaysia, Malta, Monaco, Netherlands, Norway, Portugal, San Marino, Singapore, South Korea, Spain, Sweden, Switzerland, United Kingdom, United States Of America, Vatican City



Health
In general, no special immunizations or medications are necessary for travel to Australia.
For more information see also MDtravelhealth.com
Health and hygiene standards in Australia are high and it is unlikely that you will encounter any health problems. Australia Medicare system has reciprocal agreements with Finland, Italy, Malta, the Netherlands, New Zealand, Sweden and the United Kingdom which entitles residents of these countries to receive necessary medical and hospital treatment. This only applies to public hospitals and casualty departments
Emergency telephone numbers
The national telephone number for all emergency services in Australia including ambulance, fire, and police is "000". Before you leave program all usefull numbers such as the emergency road service and the motorhome rental company in your mobile phone.
Best time to visit
It is possible to divide the continent into two zones - the tropical zone in the far north and the temperate zone in the south.
The tropical zone experiences two seasons:
Wet - November to April
Dry - May to October
The temperate zone experiences four seasons:
Spring: September - November
Summer: December - February
Autumn: March - May
Winter: Juni - August
The holiday seasons tend to be busy, as most locals travel during this time. Rates in the resort areas rise during December, January, and again near Easter. During Australia's summer, the north may be uncomfortably warm. Visit Australia in mid-April to late August to take advantage of great airfare deals and temperate weather along the coasts and into the Outback. Visit Sydney and Melbourne from December through early April for great hotel rates, as most residents travel to the shores during these months.
Check here for the Holiday Dates in Australia.
Currency
The unit of currency is the Australian dollar which is divided into 100 cents.
The notes are: $5, $10, $20, $50, and $100.
Coins: 5c 10c 20c, 50c, $1 and $2.
Electricity
Australian electricity voltage for domestic use is 220-240 volts, AC 50Hz with 3-pin power outlets. UK appliances work with an adaptor. US 110V appliances also need a transformer.
Time Zones
There are three time zones within the Australian continent. The eastern states - Queensland, New South Wales, Tasmania and Victoria - are 30 minutes ahead of South Australia and the Northern Territory (Broken Hill, in the far west of New South Wales is included in this zone) and two hours ahead of Western Australia. See worldtimezone.com for the present time in Australia.