Rent a Landcruiser with roof tent in Kenya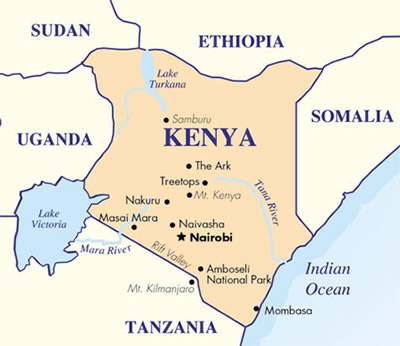 ---
Where to go in Kenya
The wildlife in Kenya is the prime attraction of safaris, that take place in some of Africa 's most well known national parks including the Masai Mara, Tsavo, Amboseli, and Lake Nakuru. There are over 30 game reserves as well as large private ranches teeming with buffalo, elephant, giraffe, rhino, gazelle, wildebeest, big cats and numerous other species. There are lakes lush with flamingos and a myriad of colourful birds - an ornithological paradise. The Great Rift Valley straddles the heart of the country with its spectacular scenery and silent volcanoes, while the east coast is fringed with the white beaches and marine parks of the Indian Ocean. There are steep mountains (Africa's highest), deep forests, arid deserts, and turquoise lagoons.




Road conditions / restrictions
Driving in kenya is on the left hand side of the road. Road conditions are variable and can be very poor in remote areas. Ensure that your vehicle is suitable for handling rough roads before embarking on a journey.Driving at night in most areas is not advisable.



Where to camp
There are not many campsites in Kenya. They range from private campsites to park campsites.



The private campsites tend to be with good facilities – hot shower and flush toilets – wood is provided as well. Mostly shaded sites, they also come with a good possibility of a restaurant and variety of activities.

Park campsites have mostly basic facilities – long-drop toilet and showers – to no facilities at all where you have to be fully self-sufficient, bringing everything including water.




Type of motorhome(s)
4wd Roof-Top Tent Camper
During the day you are driving a spacious 4x4 car, and at night you fold out a roof-top tent with double-bed to sleep in.


Driving license
Visitors to Kenya can drive using an international drivers license.


Visa
Passport valid for at least 6 months beyond the period of intended stay. Visas are required by all visitors. Most visitors can obtain a visa at the Airport upon arrival, however, it is advisable to obtain the visa from the nearest Kenyan Embassies/High Commissions abroad prior to departure.
Health
Vaccinations against Hepatitis A, Yellow Fever and Typhoid are recommended. You also need malaria prophylaxis.See MDtravelhealth.com


Emergency telephone numbers
Best time to visit
Kenya is a year round destination with excellent game viewing. One of Kenya's greatest attractions is the annual wildebeest migration between Serengeti National Park in Tanzania and Masai Mara National Reserve in Kenya. This takes place between June and September. Traditional peak season is January to March as this is when the weather is hot and dry and most comfortable for travelling. April – June and October – December are less popular times for visiting Kenya as these are the rainy seasons and flooding often occurs. However, it is usually possible to get around easily during these times and the rains do not hinder visibility.


Water


Only drink water that you know is safe. Don't drink tap water or brush your teeth with it, stick to bottled or canned drinks - well-known brands are safe. Have bottled mineral waters opened in your presence, and regard all ice as unsafe.

Electricity
Electricity supply is 220/240 v 50hz. Plugs are 3 point square. Don't forget to bring voltage and plug adaptors.


Currency
The official currency is the Kenya Shilling. The written abbreviation is either KSh or using /= after the amount (ie 500/=) . Available Notes are 50, 100, 200, 500 and 1000 shillings. Available coins are 5, 10 and 20 shillings. Visitors to Kenya should change foreign currency at banks, bureaux de change or authorized hotels. The easiest currencies to exchange are US Dollars, Pounds sterling and EURO.
Travellers Cheques are widely accepted, and many hotels, travel agencies, safari companies and restaurants accept Credit Cards. Most Banks in Kenya are equipped to advance cash on credit cards.


Time Zone
Kenya has a single time zone- which is GMT+3.


Language
Over 50 different tribes live in Kenya - the tall, proud and fierce Maasai and their northern cousins the Samburu with their shields, spears and exquisite headwork; the Kikuyu whose homeland is the Mount Kenya region and who make up more than 30% of the population; the Luo who fish on Lake Victoria; the nomads of Turkana and many others. Kenya is an ethnic cocktail - a colourful rainbow of people and cultures. Kenya was formerly a British colony and English remains one of the official languages. The other is Swahili.