Motorhome rental, RV rent and Campervan hire in Japan
---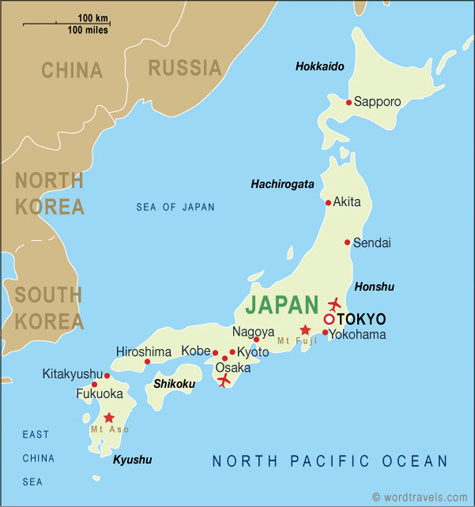 Where to go in Japan
Japan, with its rich culture and varied geography, has very much to offer the curious visitor, not only in and around the major cities but in many of the outlying regions as well. If you want to see everything, you should plan on spending at least a year in Japan.
The archipelago consists of 6,852 islands ("island" defined as land more than 100 m in circumference), of which 430 are inhabited.[2] The four main islands, from north to south, are Hokkaido, Honshu, Shikoku, and Kyushu; Honshu is the largest and referred to as the Japanese mainland.
Road conditions / restrictions
Roads are very good maintained, In the cities most crossings have traffic lights and direction signs are in English and Japanese. So in general it is easy to drive around in Japan.
There are many highways in Japan more than 9,000 km (about 5,600 miles) in total. Almost all highways display their destination and distance written in both Japanese and English. These highways have 'Parking Area (PA)' and 'Service Area (SA)' at every certain distance. PA has bathrooms and vending machines, and some of them have restaurants, gas stations and gift shops. In general, highways have a speed limit from 80km/h (56MPH) to 100km/h (62.5MPH). Some of local highways restrict the speed limit of up to 70km/h (43.75MHP). On the other hand, main public roads have a speed limit from 50km/h (31.25MHP) to 60km/h (37.5MHP), and some of them in downtown are strictly limited to 30km/h (18.75MHP). Public roads including those main roads can be used for free, but highways and driving courses may be tolled. They can be paid at the windows or machines at the entrance, exit and inter-changes of highways and private roads. If the ETC (Electronic Toll Collection) system is available, payment will be deducted automatically when passing through ETC gate. There are also ETC gates only for vehicles with ETC system. It is necessary to have an ETC card to use the ETC system, issued with a payment by Japanese credit cards. Some of the Car Rental companies rent out ETC card for overseas tourist.
Where to camp

You can park & sleep in your Campervan almost anywhere (as long as your vehicle is legally parked). But the most convenient way is to stay on a michi no eki. These are roadside stations along non toll roads, mainly out of the city. They have always clean toilets and everywhere you can find soft drink vending machines. Sometimes there is a restaurant or they sell local vegetables an other food.
There are currently more than 3,000 campsites all over Japan, some of them are called autocamp where you can also spend the night.
Visa

Nationals of many countries are eligible to enter Japan without a visa unless the purpose of the visit is to reside in Japan, to obtain employment or to otherwise engage in remunerative activities.


Parking
Many cities in Japan prohibited and penalized parking on the streets, overseas tourists must pay attention. There are many parking buildings and automatic parking payable by coins available in small districts. Although normally it costs several hundred Yen per hour, parking farther away from the big cities and parking in smaller cities will be cheaper. There is even free parking available in rural areas. Meanwhile, in national parks and many places for sightseeing, parking will be available for a one-time charge without time limit.


Road site stations: michi no eki
There are over 1,005 Free Parking Areas called michi no eki where you can park & sleep for free.


Emergency telephone numbers

Police: Dial '110' from any telephone (in Tokyo, the Metropolitan Police have an English help line, available Monday through Friday except on holidays, from 8:30 a.m.-5:15 p.m. at 03-3501-0110) Fire/Ambulance: Dial '119' from any telephone Tokyo English Life Line: 03-5774-0992 (Daily 9 a.m.-11 p.m.) Tourist Information Center: 03-3201-3331 (Daily 9 a.m.-5 p.m.) (Also available in two locations at Narita International Airport, and at the Kansai International Airport in Osaka)

Best time to visit

Because Japan stretches in an arc from northeast to southwest, you can travel in the country virtually any time of year. Winters in southern Kyushu and Okinawa are mild, while summers in northern Hokkaido are cool. The period from the end of August to September is typhoon season, although the majority of storms stay out at sea and generally vent their fury on land only in thunderstorms.