Motorhome rental, RV rent and Campervan hire in Norway - Utleier Bobiler i Norge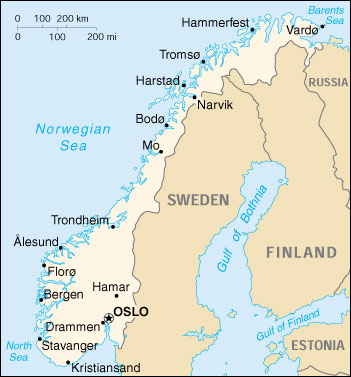 ---
Where to go in Norway
Norway is a ruggedly beautiful country of mountains, fjords and glaciers. It is famous for its fjord-indented coastline and its mountains, ski resorts, lakes and woods. Famous cities in Norway include the capital Oslo with its castle, its cathedral, its picturesque landscape and interesting architecture. On the west coast there are the cities of Bergen and Stavanger, each of them set alongside a fjord. Preikestolen is located in Lysefjorden right outside Stavanger. It is a cliff hanging 604 metres directly above the water. In the south you find the city of Kristiansand which is the fifth largest in Norway, and to many it is a favourite holiday city. Trondheim, Norway's first capital, is home to the largest medieval cathedral in Scandinavia, Nidaros Cathedral. Tromsø, gateway to the arctic, is situated 400 km north of the arctic circle in the midst of a stunning landscape of mountains and fjords.

Road conditions / restrictions
Public transportation in Norway is generally safe and the maintenance and condition of urban roads are generally good. Rural road conditions are fair, and the availability of roadside assistance is limited.

- The roadway system beyond Oslo's limits and other major cities tends to be simple two-lane roads.
- In mountainous areas of Norway, the roads also tend to be narrow and winding and there are many tunnels.
- The northerly latitude can also cause road conditions to vary greatly depending on weather and time of year.
- Many mountain roads are closed due to snow from late fall to late spring.
- The use of winter tires is mandatory on all motor vehicles from November to April.
- Norwegian law requires that drivers always use their vehicle headlights when driving.
- Norwegian law also requires drivers to yield to vehicles coming from the right.
- In some, but not all, instances major roads with "right of way" are marked.
- Seatbelts are mandatory for drivers and passengers
- Speed limits are 80 to 90kph (49 to 56mph) outside built-up areas and 50kph (31mph) in built-up areas.
Where to camp
Camping/campsites
Norway has more than 1,000 camp sites classified with 1 - 5 stars depending on their standard and facilities.

Free camping / Right of access / Allemannsretten
If you plan to sleep in a tent, caravan or motor home you may do so anywhere in the countryside, forests or mountains, except in cultivated fields and lay-bys. You can stay for up to 48 hours (in the high mountains you can stay for as long as you wish), as long as your tent, caravan or mobile home is no closer than 150 m to the nearest house or cabin. Fires must not be lit in woods or open ground between 15 April and 15 September. This includes the use of cooking equipment that uses petroleum (primus stoves etc.). However, fires may be lit on areas of bare rock. You may not empty toilets or dispose of any other form of waste out in the countryside. Rest areas as well as places for emptying toilets are signposted.

Motorhome stopovers (bobil parkering)
Since you can camp free in many places in Norway, there are only a few motorhome stopovers. Many tankstations over you to dump your waste water and refill the fresh water. In Oslo there is a great motorhome stop at Sjølyst Marina.

Type of motorhome(s)
Hightop or campervan

A panel van (delivery van) often elegantly converted with a special high fixed roof. The 'wheelbase' of the van chassis has a strong influence on available space since the internal width is more or less fixed. Most campervans are 2-berth, sometimes you can extend the roof and convert the van into 4 sleeping places.

Coachbuilt / C-Class

An extended chassis on a van cab with a coachbuilt living space, rather like having a high spec caravan on the back. The wider 'caravan' body allows designers to cleverly incorporate almost everything you could need into a quite small space - even cross-body beds big enough for a six footer. In the UK frequently called a 'motorcaravan'. Also known as a C-Class. Many have a double bed in the cabover. Sometimes they have a fixed double bed or a stack bed. They can range from 2 berth to even 7 berth with many different layouts.

A-Class or Integrated

A medium or largish van completely coachbuilt, with nothing of the original van bodywork or cab exterior. Potentially the best design since almost everything is based on the needs of motorcaravanners but they are usually rather expensive. Sometimes they have a transverse 'drop-down' double bed stored in the roof over the cab seats. Often only 2 berth or 3/4 berth when you can convert the dinning seats into a bed. if they combine it wth a drop down double bed it is possible to have as much as 6 people sleeping inside.
Driving license
If you are a resident of a Nordic country or the European Economic Area (EEA) you need only a valid driver's license from your home country. else you need an International Driving Permit in addition to your driver's license from your home country,


Visa
General European Visa rules apply.

Health
Norway has reciprocal agreements with Austria, Belgium, Cyprus, the Czech Republic, Denmark, Estonia, Finland, France, Germany, Greece, Hungary, Iceland, Ireland, Italy, Latvia, Liechtenstein, Lithuania, Luxembourg, Malta, Netherlands, Poland, Portugal, Slovakia, Slovenia, Spain, the United Kingdom, Sweden and Switzerland. A European Health Insurance Card (EHIC) is necessary for this purpose.

Emergency telephone numbers
110 - Fire
112 - Police
113 - Ambulance

Best time to visit
In the summer the average temperature in Norway ranges from 57°F to 65°F (13°C-18°C). In January it hovers around 27°F (2°C), ideal weather for winter sports. The Gulf Stream warms the west coast, where winters tend to be temperate. Rainfall, however, is often heavy here. Above the Arctic Circle the sun shines night and day from mid-May until late July. For about 2 months every winter, the North Cape is plunged into darkness.

Late June to early August is the high season in Norway, when the weather is warmest and the schools are on holiday. The most popular tourist places can be busy, but finding peace and quiet, if you wish, is easy. All the man-made tourist attractions are open, and public transport services are more frequent.


Currency
The Norwegian currency consists of "kroner" (NOK) and "øre". 100 øre make up 1 krone.


Language
Norwegian (Bokmål and Nynorsk). In some districts, Sámi is also an official language.

Electricity
220 volts AC (50 Hz) is the Norwegian standard. If you are traveling with electrical or electronic devices be sure to bring a two-pin continental adapter with you.