Motorhome rental, RV rent, Campervan hire Austria - Wohnmobil oder reisemobil mieten in Österreich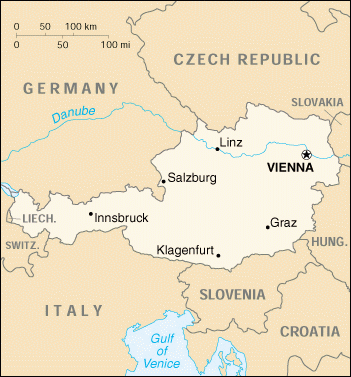 ---
Where to go in Austria
Austria is a predominantly mountainous country with a total area of 83,855 km2. Its border is formed by eight other European countries, namely Italy, Switzerland, the Principality of Liechtenstein, Germany, the Czech Republic, Slovakia, Hungary and Slovenia. Vienna is the capital of Austria and lies on the Danube River and is partly surrounded by the hills of the Vienna Woods (Wienerwald). The nine Federal Provinces (Vienna, Upper Austria (Oberösterreich), Burgenland, Lower Austria (Niederösterreich), Styria (Steiermark), Carinthia (Kärtnen), Salzburg, Tyrol and Vorarlberg) divide the country along geographical and cultural lines. After Vienna, the western provinces of Salzburg, Tirol and Vorarlberg are the most popular tourist regions, although the southern province of Carinthia (bordering Italy and Slovenia) is now taking a larger share of the trade owing to its mild climate and attractive lakes.



Road conditions / restrictions
Road conditions in Austria are generally excellent. During the winter, however, roads in alpine areas may become dangerous due to snowfall, ice, or avalanches. Some mountain roads may be closed for extended periods and tire chains are often required. Drivers should exercise caution during the heavily traveled vacation periods (December-February, Easter, July-August).

Austria requires all vehicles using the autobahn to display a highway tax sticker "Autobahn Vignette" on the inside windshield of the vehicle. The sticker may be purchased at border crossings, gas stations in Austria, as well as small "Tabak" shops located in Austrian towns. Fines for failing to display a valid autobahn vignette on the windshield of your car are usually around $120.00



Where to camp
Free camping

In general overnight parking is allowed except: Tyrol, Vienna, nature reserves and in local areas where there is a sign that camping is prohbited. No camping activities are allowed and disposal wastewater must be dumped at official places.

Motorhome stopovers (reisemobil stellplätze)

There are a few motorhome stopover places ( in Austria they call them reisemobil- or wohnmobilstellplatz), some even have sanidumps and toilets and showers. Sometimes you can stay for free, others ask a (small) fee.


Camping and campsites

Austria has a lot of well-led camp sites, most of them are situated in a charming scenery.During the holidays (especially July and August) reservations are recommended. Even in the cold seasons some of the camp sites (especially in winter sports resorts) are occupied.

Type of motorhome(s)
A-Class Motorhomes
A class represents all motorhomes that are 'coach shaped' the smooth lined body added to a bare chassis cowl.

B-Class Motorhomes
B Class these are panel vans (such as transit vans) fitted out as motorhomes. These are also called day-vans and camper vans.

C-Class Motorhomes
C class refers to a chassis cab conversion with purpose built 'caravan' body attached


Driving license
European driving licences will be accepted in Austria. Non Europeans must carry an International Driving Permit and/or a translation of their own licence.


Visa
The following do not need a visa: nationals of any of Austria's neighbouring states, of EU member states and many other states. Information may be obtained from the Austrian Embassy or consulate in your country as well as the Federal Ministry for Foreign Affairs. An up-to-date list can be found at www.aussenministerium.at.



Health
No vaccinations are necessary for business visits or general tourism. Medical facilities are excellent. Medical insurance is advised - citizens of EU countries can get free emergency medical treatment at public hospitals in Austria on production of a European Health Insurance Card (EHIC).


Emergency telephone numbers
General European emergency number 112

Emergency roadside help and information 123 or 120 for vehicle assistance and towing services (Austrian automobile clubs), 122 for the fire department, 133 for police, and 144 for ambulance.
Best time to visit
Austria enjoys a moderate continental climate featuring all four distinct seasons: spring, summer, autumn and winter. Summers are generally warm and pleasant with cooler nights, Winters are sunny, with reliable and frequent snowfalls. The weather is changeable throughout the year. However, in summer rainfalls are usually heavy and of short duration only. Winters are rather cold in the North-East and can be lightened up by the frequent and heavy foehn winds ( a warm and dry wind, especially in Vienna) in some valleys in the Alps.