Motorhome rentals, RV rent or campervan hire in New Zealand
---
Where to go in New Zealand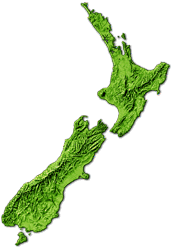 New Zealand lies in the southern Pacific Ocean, 1,600 km east of Australia and consists of two main islands and a number of lesser islands. One of the most striking physical features on the Southern Island is the Southern Alps (Kä Tiritiri o te Moana). Abel Tasman is the country's smallest and only coastal national park. Nelson Lakes National Park, consists of dense beech forest, alpine mountains and lakes. Kahurangi is New Zealand's second largest national park, taking up almost a third of the Nelson region. It has a range of geology and diverse ecosystems. Christchurch, the Garden City,is also called the "most English city outside England.", it is filled with beautiful parks and gardens. From Christchurch you can join cruises to see sperm whales or you can view them from the air, snorkel with dusky dolphins, swim with seals and observe a host of interesting sea birds. Toward the centre of the South Island, Queenstown is the adventure capital of New Zealand. The Otago Peninsula is a haven for wildlife, including seals, dolphins, albatross, and penguins.

In the North Island, the volcanic interior contains New Zealand's largest lake, Lake Taupo. Most of the country's active volcanoes (Ruapehu, Ngauruhoe and Tongariro) are all usually quiet. Hot springs, geysers and mudpools also form part of the volcanic system centred around Rotorua. Between Rotorua and Auckland are the Waitomo Glowworm Caves, filled with stalactites and stalagmites, and an underground river lit only by the eerie glow of tiny creatures high above.



Road conditions / restrictions
New Zealanders drive on the left. Roads in New Zealand twist and turn and passing lanes are not always present. There are a few roads in New Zealand where rental vehicles are not insured and cannot be driven:
Ninety Mile Beach, Northland
Colville township to Port Jackson, Coromandel
Skippers Road, Queenstown
Ball Hut Road, Mt. Cook
If travelling between the North and South Island, you will need to book the ferry trip. Indicative costs for this for a family of 4 return range from $230 to $310. It may be better and cheaper to drop off the motorhome in Wellington, fly to Christchurch and pick up another motorhome there.

More information about NZ Road Rules

Where to camp
Free camping

Free camping is generally accepted in most places in New Zealand. However, watch out for signposted areas where camping is not permitted. When free camping with a motorhome, everything runs off gas. Only some of the internal lights will work. These are battery powered – the rest are mains powered. Hot water is heated by the engine heat. In the mornings, hot water can be obtained by running the motor for a while. Normally, there is enough battery power and gas to camp for two to three days before topping up and emptying the toilet.
Department of Conservation (DOC) Campsites
Facilities at DOC campsites can vary considerably and are divided into three categories:

- Serviced Campgrounds have flush toilets, tap water, showers, rubbish collection, picnic tables, mown grass, access for all vehicle types and usually some powered sites. Many have barbecues or fireplaces, a kitchen and laundry, shop and caravan waste disposal point

- Standard Campsites (ST) have toilets, water supply, mown grass and vehicle access (sometimes by boat only). Barbecues or fireplaces, picnic tables and rubbish collection may be provided.

- Informal Campsites (I) have a toilet and very limited facilities such as stream water and basic vehicle access.

Freedom camping is permitted except along the Great Walk tracks and wherever there are 'no camping' signs. Make sure you leave no trace of your visit. Take your rubbish with you and dispose of toilet waster appropriately
Private Campgrounds
There are hundreds of privately owned campgrounds across the country offering a range of amenities including full kitchen and laundry facilities, BBQ areas and TV lounges. Many of these campgrounds also offer boat hire, spa pools, shops, restaurants and adventure playgrounds.
Type of motorhome(s)
Campervan

Campervans, are vans adapted by you for sleeping in usually with 2 beds, a very small kitchen and little place to keep your belongings. Campervans are usually expandable to allow standing room, but wind down to be more compact when driving. The most common configurations are a two berth with no shower and toilet, or a two berth with shower and toilet.
Motorhome

Most motorhomes for rental are 'C' Class motorhomes equipped with full sleeping, kitchen, dining and bathroom facilities and plenty of storage.The most common configurations are a four berth with shower and toilet or a six berth with shower and toilet.
Driving license
All drivers must be over 21 years old and must produce a full and valid driver licence. Where your driver's licence is not in English, an accompanying International driver's licence will be required. New Zealand recognizes a driver licence of your country of origin or an international drivers permit. Drivers over the age of 75 years must supply a recent valid medical certificate to indicate that they do not have a health condition that would impair their ability to drive.



Visa
All visitors require a passport that is valid for at least 3 months after their intended departure. A Visa is not required for most visitors travelling to New Zealand for a stay of less than 3 months. You should check with your local New Zealand embassy or consulate for the latest information Also check the Immigration New Zealand website.
You are not allowed to bring items which could pose a risk ilike meat and meat products, eggs and egg products, dairy products, animal products such as wool, hides, hunting trophies, soil, seeds and plants, second-hand saddlery, animal remedies and some Chinese medicines.
Health
In general, no special immunizations or medications are necessary for travel to New Zealand.
For more information see also MDtravelhealth.com
Emergency telephone numbers
When you need immediate help with a life threatening or time critical emergency call 111.
(*555 should be used to report general traffic incidents via mobile phone. It is not an emergency number).
Best time to visit
The low season is May to September and the high season is December to February. Booking is advised over the high season as most suppliers will rent out their entire motorhome stock.

Climate:
January and February are New Zealand's warmest months and July normally its coldest.

The climate is temperate - averages range from 8°C in July to 17°C in January - but summer temperatures occasionally reach the 30s in many inland and eastern regions.

The mean average rainfall varies widely - from less than 400 mm in Central Otago to over 12,000 mm in the Southern Alps.

For most of the North Island and the northern South Island the driest season is summer. However, for the West Coast of the South Island and much of inland Canterbury, Otago and Southland, winter is the driest season.
Currency
New Zealand's unit of currency is the New Zealand dollar (NZ$). Coins have values of 5, 10, 20 and 50 cents, $1 and $2; notes have values of $5, $10, $20, $50 and $100. There is no restriction on the amount of foreign currency that can be brought in or taken out of New Zealand. However, every person who carries more than NZ$10,000 in cash in or out of New Zealand is required to complete a Border Cash Report.
Electricity
New Zealand operates on 230/240 volt AC electrical power (an Alternating Current running at a frequency of 50 hertz). For electric razors, many hotels are fitted with 110 volt sockets.

Electrical outlets in New Zealand only accept two or three-blade plugs. The two main blades of these plugs are angled (differing from the vertical blade configuration seen on North American plugs). A plug adapter or converter is necessary for all electrical equipment that does not match this configuration. 2Important: Both the plug and the voltage of an electrical appliance must be converted in order for an appliance to work safely.
Time Zone
New Zealand is 12 hours ahead of GMT (Greenwich Mean Time) and UTC (Universal Time Coordinated) and two hours ahead of Australian Eastern Standard Time. During the summer New Zealand observes Daylight Saving Time with one hour in advance.