Motorhome rental, RV rent and Campervan hire in the Netherlands - Huur een camper in Nederland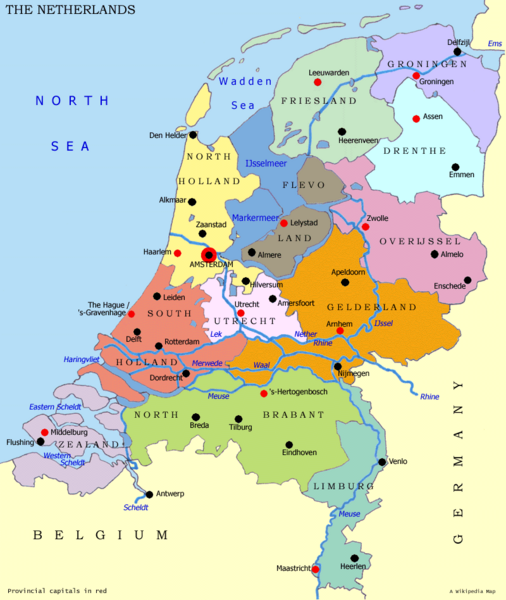 ---
Where to go in the Netherlands
The Netherlands has much to offer the traveler. Often called Holland, especially in Europe, this familiar name actually refers only to two of the country's 12 provinces. Amsterdam; the nation's capital city is one of the most visually stunning in the world, where you can also delve through centuries of history aboard a canal boat or explore the array of excellent museums. Other impressive cities including Arnhem, the Hague and Rotterdam. Away from the cities the idyllic land of windmills and tulips does still exist in the bucolic splendour of the countryside, as do a number of coastal towns and resorts, many with fine beaches and similarly interesting heritages to Holland's bigger historical cities. Out in the countryside any sense of monotony you may have is soon broken by stunning medieval towns like Utrecht and Delft. Holland's main natural attraction is its wide swathe of coastline, much of it peppered with artificial sea walls and inland seas, as The Netherlands fights its never-ending battle with the North Sea.


Road conditions / restrictions
The Dutch road system is easily accessible and extremely well-maintained. Roadways include high speed express ways, limited access motorways, dual highways and secondary roads. All roads are well signposted.

The green 'E' symbol on a map indicates international motorways, the red 'A' indicates national motorways. Small yellow signposts and the letter 'N' mark other main roads.

The speed limits are as follows:

in built-up areas: 50 kms per hour
outside built-up areas: 80 kms per hour
on the motorways: 100-120 kms per hour, unless otherwise indicated



Where to camp
Wild camping
Wild camping is forbidden in the Netherlands.

Motorhome stopovers (camperovernachtingsplaatsen)
A few motorhome friendly municipalities have regulated facilities where overnight parking is allowed.

Campings and campsites
Dutch campsites are well managed and are graded (effectively from 'good' to 'excellent'). Even the most modest have proper toilet and washing facilities and a shop, while those at the upper end boast swimming pools, supermarkets and a range of creature comforts. Campsites are generally open from April to the end of September, although some camp sites are open all year round.



Type of motorhome(s)
Hightop
A panel van (delivery van) conversion with a special high fixed roof. The 'wheelbase' of the van chassis has a strong influence on available space since the width is more or less fixed. Long wheelbase chassis give the most space but can be unwieldy to drive. Medium wheelbase is the most popular on newer vans, MWB is not available on older vans. Often known as a 'camper' or 'campervan' or even Dormobile after one of the original manufacturers.

Rising roof
A variant of the above with a 'folding roof' to lower the overall profile. Also known as a 'pop-top'. Has obvious advantages when driving but there are some problems with insulation and water ingress.

C-Class or Coachbuilt
An extended chassis on a van cab with a coachbuilt living space, rather like having a high spec caravan on the back. The wider 'caravan' body allows designers to cleverly incorporate almost everything you could need into a quite small space - even cross-body beds big enough for a six footer. Frequently called a 'motorcaravan'. Also known as a C-Class in the UK. Many have overcab beds in the 'Luton' but there are also 'low-profile' versions of these motorcaravans without the Luton over-cab space and sometimes with a lower roofline, these vans are much more economical on motorways due to their improved aerodynamics.

A-Class or Integrated
Medium or largish 'van completely coachbuilt - i.e. with nothing of the original van bodywork or cab exterior. Potentially the best design since almost everything is based on the needs of motorcaravanners but they are usually rather expensive and historically not that popular in the UK though this is changing. These days they are about 2.2 metres wide like the c-class coachbuilts and often have a transverse 'drop-down' double bed stored in the roof over the cab seats offering much more headroom than the Luton bed in a c-class. Often only 3 berth. The posh end of the market and often referred to as a 'motorhome'.



Driving license
It is handy, but not compulsory to have an international driver's license. We do advise to use an international driver's license if your license is in a language other than English. You can apply for an international license at the automobile association in your own country.


Visa
A valid passport is all you need to enter Holland. Check with the Dutch Embassy or Consulate in your own country whether you need a visa. They also have the necessary forms you have to complete. You will find the addresses of the Dutch embassies and consulates on the home page of the Ministry of Foreign Affairs.
Health
Good medical facilities are widely available. Tourists from countries with which Holland does not have a reciprocal agreement are advised to take out travel insurance including coverage of medical treatment. The actual coverage and financial settlement depends on the conditions of the particular insurance taken out.

Holland has reciprocal agreements with Austria, Belgium, Cyprus, the Czech Republic, Denmark, Estonia, Finland, France, Germany, Greece, Hungary, Iceland, Ireland, Italy, Latvia, Liechtenstein, Lithuania, Luxembourg, Malta, Norway, Poland, Portugal, Slovakia, Slovenia, Spain, the United Kingdom, Sweden and Switzerland. A European Health Insurance Card (EHIC) is necessary for this purpose.

A restriction applies to these countries: Australia, Cape Verde Islands, Croatia, Morocco, Tunisia, Turkey, the Federal Republic Yugoslavia (Kosovo, Montenegro, Serbia, Vojvodina), Bosnia-Herzegovina and Macedonia.

Health care will only be provided in case the necessary treatment cannot be delayed until the patient returns to his/her own country! These countries do not have E112 forms. Tourists traveling to Holland from the countries listed must have international insurance.

Emergency telephone numbers
Police, fire brigade, ambulance: 112
National number police, no emergency: 0900 8844
The yellow cars of the ANWB (Royal Dutch Touring Club) patrol most major roads, 24 hours a day. For emergency assistance, travelers may phone the ANWB from the yellow booths located along highways. The (tollfree) emergency ANWB phone number is 0800 08 88 (only within Holland!).


Best time to visit
The Netherlands has a fairly temperate climate, very similar to England; temperatures are variable and rain occurs throughout the year. Despite the many tourists and schoolholidays the best time to visit is over the summer. The Netherlands is also famous for its flowers: the bulb fields of North and South Holland, with their daffodils, hyacinths and tulips, attract hundreds of thousands of visitors every year, particularly in April and May.
Language
Dutch is the national language of Holland. However, English is spoken by almost everyone. In addition, many Dutch people speak German and French. Dutch is the mother tongue of well over 21 million Dutch people and Flemish people (Dutch- speaking nationals of Belgium). The people in the province of Friesland speak Fries, in addition to Dutch. The Dutch outside this province do not understand this language.


Electricity
The voltage in Holland is 220 volts. Hotels may have a 110-volt or 120-volt outlet for shavers, but travellers are advised to bring a power converter and an adapter for two-prong, round-prong plugs with side grounding contacts.


Currency
The official currency is the Euro. Other countries which are a part of the euro-zone are Austria, Belgium, Finland, France, Germany, Greece, Ireland, Italy, Luxembourg, Portugal and Spain.


Time
Local time is GMT +1 (GMT +2 from the last Sunday in March to the last Sunday in October).