Motorhome rental, RV rent and Campervan hire in Portugal - Aluguer de Autocaravanas
---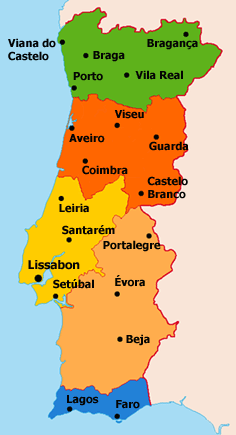 Required by all except the following for stays of up to 90 days:

(a) nationals of EU countries, Australia, Canada, USA, Japan and nationals mentioned under passport exemptions

(b) nationals of Andorra, Argentina, Brazil, Chile, Costa Rica, Croatia, Cyprus, Israel, Korea (Rep. of), Lithuania, Mexico, New Zealand, Norway, Paraguay, San Marino, Singapore, Switzerland, Uruguay, Vatican City and Venezuela;
Health
There are no health risks attached to travel to Portugal. A yellow fever vaccination certificate is necessary for entry for anyone travelling from an infected area and destined for the Azores or Madeira. Health facilities are good and reciprocal health agreements exist with most European countries, including the UK, whose citizens receive free emergency care at state hospitals. Dental care and repatriation costs are not covered under this agreement. Medical insurance is therefore advised.


Emergency telephone numbers
National Emergency Number of Portugal:112


Best time to visit
Southern Portugal, including the Algarve, has a Mediterranean climate with hot, dry summers and mild winters. Summer temperatures are high, but moderated by sea breezes. In the north the weather is wetter, particularly in winter, and cooler, temperatures influenced by Atlantic currents and the Spanish Meseta. The best time to travel to Portugal is during spring and autumn when days are pleasantly sunny and warm but tourist areas are relatively quiet.
Language
Portuguese is the official language, but English is widely spoken and understood.

Electricity
Electrical current is 220 volts, 50Hz. Round two-pin plugs are used.

Time
Local time is GMT (GMT +1 from last Sunday in March to Saturday before last Sunday in October).

Currency
Portugal is a member of the European Union and its official currency is the Euro (EUR), which is divided into 100 cents.