Motorhome rental, RV rent and Campervan hire in Slovenia - Vozila za najem v Slovenija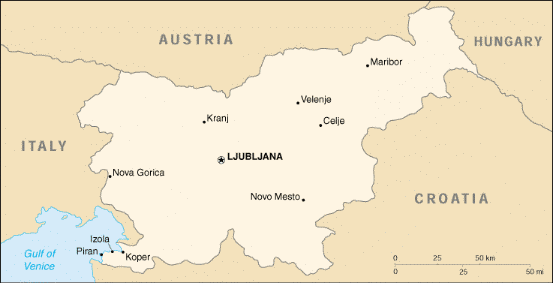 ---
Where to go in Slovenia
One of the smallest countries in Europe, Slovenia lies in an enviable geographical position between the majestic Alps and the Mediterranean. The Slovene capital Ljubljana is situated in the heart of Slovenia, along the banks of the Ljubljanca River. The old part of the town is particularly delightful. Slovenia's natural spas are scattered throughout the country and include the Radenci Health Resort (close to the Austrian border) and the Rogaska Health Resort, where legend claims that the winged horse Pegasus created curative mineral waters with a magic blow of his hooves. Portoroz is Slovenia's most popular seaside resort, with numerous hotels and pavement cafes. The spectacular 20km cave of Postojna, only one hour's drive from the coast, has been deemed one of the greatest sights of natural beauty, and features gigantic stalagmites and a cavernous hall which can hold over 10,000 people. The Julian Alps are a popular skiing area in the winter, particularly the resorts of Kranjska Gora and Bovec. Triglav National Park encompasses the splendor of these mountains, as well as the grassy slopes of the surrounding valleys.


Road conditions / restrictions
Slovenia has a well-developed road network that is safe for travel. Highways connect to neighboring cities and countries and are clearly sign-posted. As the number of cars in Slovenia continues to rise, roads are becoming more heavily congested during the weekends on major routes and during rush hours. Parking is difficult and can be expensive in the center of Ljubljana. Traffic moves on the right; road signs and traffic rules are consistent with those used throughout Europe.


Where to camp
Rest stops for motorhomes
There are a few motorhome stopovers. many spa's have paid parking facilities for motorhomes.

Wild camping

There is no regulation against overnight camping, but it is not yet general accepted. In the national park Triglav wild camping is forbidden.

Camping and campsites
Slovenia has about 30 listed campsites.


Type of motorhome(s)
C-Class or Coachbuilt
An extended chassis on a van cab with a coachbuilt living space, rather like having a high spec caravan on the back. The wider 'caravan' body allows designers to cleverly incorporate almost everything you could need into a quite small space - even cross-body beds big enough for a six footer. Frequently called a 'motorcaravan'. Also known as a C-Class in the UK. Many have overcab beds in the 'Luton' but there are also 'low-profile' versions of these motorcaravans without the Luton over-cab space and sometimes with a lower roofline, these vans are much more economical on motorways due to their improved aerodynamics.

A-Class or Integrated
Medium or largish 'van completely coachbuilt - i.e. with nothing of the original van bodywork or cab exterior. Potentially the best design since almost everything is based on the needs of motorcaravanners but they are usually rather expensive and historically not that popular in the UK though this is changing. These days they are about 2.2 metres wide like the c-class coachbuilts and often have a transverse 'drop-down' double bed stored in the roof over the cab seats offering much more headroom than the Luton bed in a c-class. Often only 3 berth. The posh end of the market and often referred to as a 'motorhome'


Driving license
Driving licences issued in EU countries are valid for use in Slovenia for the period of their validity. Non-EU nationals can use their own licence together with an international driving licence.


Visa
General European Visa rules apply.
Emergency telephone numbers
police: 113
fire: 112
emergency first aid: 112
AMZS - Automobile Association of Slovenia: 1987


Best time to visit
Between May and October is the best time to visit Slovenia, it is the warmest and driest time of the year; the average temperature is usually around 21 degrees C. The mountains are the coldest part, and so you will need to cover up slightly if trekking through. It does get quite cold in the winter time, with temperatures going down to 0 degrees C, and it can also get very cold and snowy in the Alpine area, and can also become very damp and windy along the coastal regions.
Electricity
Current is 220 V, 50 Hz.


Currency
Slovenia has take-over of the euro as of the year 2007


Language
Slovene, which is closely related to Croat and Czech. Most Slovenes speak German, Hungarian or Italian, with English as a second language.